Fox Valley Labor News
staff reports
Thursday, May 26, 2016
SPRINGFIELD — With the state approaching a full year without a budget, working families in Illinois are feeling the effects of Gov. Bruce Rauner's refusal to abandon his toxic agenda, so organized labor and its supports showed up in Springfield May 18 to let Rauner know how they feel.
Illinois Working Together Co-Chair and Illinois AFL-CIO President Michael Carrigan said Rauner doesn't care about the hundreds of thousands of people who are struggling as never before because of his destructive policies.
"All of this devastation is due to one man — a mega-millionaire who thinks his huge wealth means he should be able to impose his will on an entire state. Governor Rauner is determined to ram through his extreme and harmful agenda — and he doesn't care about how much damage he inflicts in the process," Carrigan said to applause.
Statewide, public colleges and universities have announced layoffs, social service agencies are shutting down, construction projects have stalled, and businesses are owed billions for goods and services provided to the state.
Rauner is pushing policies that will lower the quality of life for all Illinoisans, especially those who depend on a weekly paycheck.
Illinois Working Together Co-Chair and Chicago Federation of Labor President Jorge Ramirez said he Turnaround Agenda would diminish wages, destroy worker protections, and completely wipe out what is left of the middle class in Illinois.
"Gov. Rauner, we are calling on you to end the devastating crisis you created. It's time to create an Illinois that works for all — for our students, seniors, state employees, tradesmen and women, and all workers struggling to provide for their families," Ramirez said.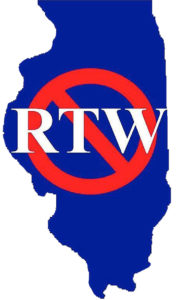 Speakers at the rally included everyday Illinoisans who are suffering the consequences of the Rauner agenda, including students, seniors, tradesmen and women, and state employees.
"Every day, I see firsthand the harm the governor is causing," said JoAnn Washington-Murry, a Child Welfare Specialist from Chicago. "Because the Governor is holding the budget hostage, treatment programs have had to scale back or shut down. That hurts children and families, because if parents can't get help to turn their lives around, my only choice is to keep that child in foster care."
Construction worker Amy Fasig from Christopher, Illinois was severely injured on the job in 2012 said they weren't strong workers' compensation law in Illinois, her family and I would have lost everything.
"We would have been responsible for millions in medical bills. If we let wealthy politicians and huge corporations lead Illinois in a race to the bottom, workers and their families will lose even more," she explained.
University of Illinois Urbana-Champaign student Stephanie Skora said because of Rauner, and his friends in the General Assembly, students have seen cuts at schools all over.
"Chicago State, Eastern, Western, Urbana-Champaign, and others are cutting staff and programs – jeopardizing my future and the future of my peers," Skora said.
The rally was organized by Illinois Working Together, a coalition defending all working families from anti-worker attacks. Every union in the state participated in the rally.