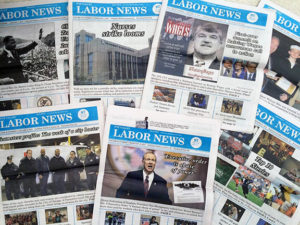 Contact us
Phone: 630-897-4022
Fax: 630-892-3873
Email: info@foxvalleylabornews.com
Publishing Legals
– The Fox Valley Labor News can publish your Legal Thursday, if received the following Friday
– Get started by emailing them to: info@foxvalleylabornews
– You'll receive a confirmation email we received your Legal
– Every Monday, you'll receive a proof/cost to view and instructions on how you'll receive your Publisher's Certificates.
– Price is $11 a column inch
– Legals we publish: Foreclosures (Kane County only), divorce, probate, name change (business and individual), adoptions, custody of a minor, establishing father/child relationships, order of protection.
History
Since 1918, the Fox Valley Labor News has been the local leader in labor news for the Fox Valley area. An independent newspaper published weekly 52 times a year, we are a strong advocate for men and women who labor for a living. Each week we strive to present Union news and views that promote, educate and build understanding between Union members and their communities.
What can we do for unions?
– Publicize your activities
– Investigate issues and present all sides objectively
– Educate readers on why we need unions and what they do for workers
What can unions do for us?
– Keep us informed on events you're involved in, issues, and stories you think would be of interest
– Educate us and help us understand so we can help our readers understand
– Subscribe to our print newspaper individually, or for all the members of your local union
– Advertise with us so we may continue to be an advocate for you