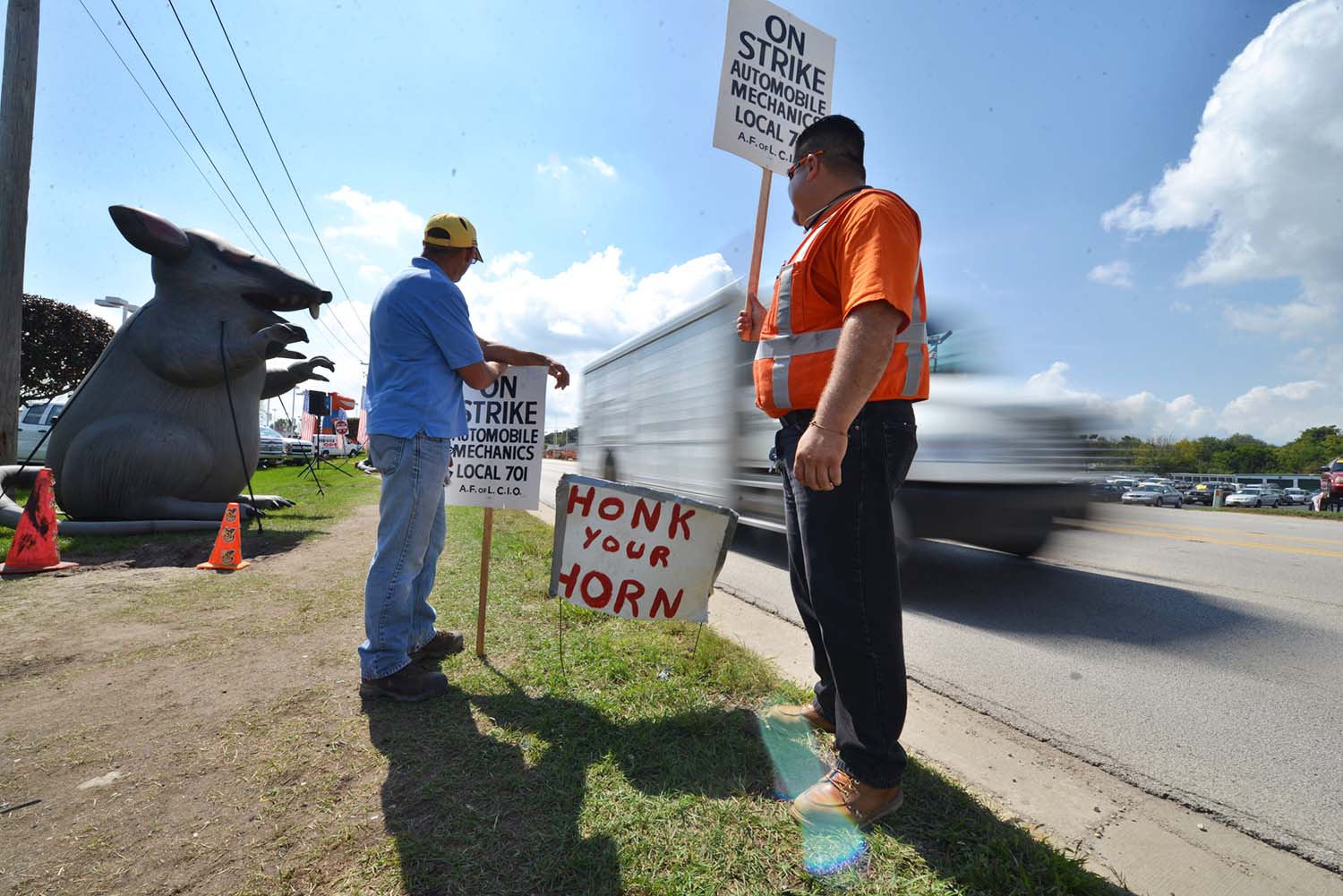 Pat Barcas/staff photographer
This week marks the ninth week striking IAMAW Local 701 union members have been walking the line outside the Al Piemonte Chevrolet dealership in East Dundee. They are fighting for their health insurance and pension.
By Pat Barcas
Staff writer
Thursday, Sept. 11, 2014
Email Pat Barcas at pat@foxvalleylabornews.com
EAST DUNDEE — "It's gotten ugly out here," said Bill LePinske, Mechanics Local 701 business representative as he walked the picket line Sept. 5 during a support rally at Al Piemonte Chevrolet in East Dundee.
Nine mechanics walked off the job July 9, and this week, the strikers entered their ninth week walking the line in front of the store. They held a solidarity rally to raise spirits of those on the picket line.
LePinske said all the men want is the standard automotive agreement contract, something which mechanics at the other Piemonte group stores enjoy, as well as about 150 other automotive repair shops in the Chicago area.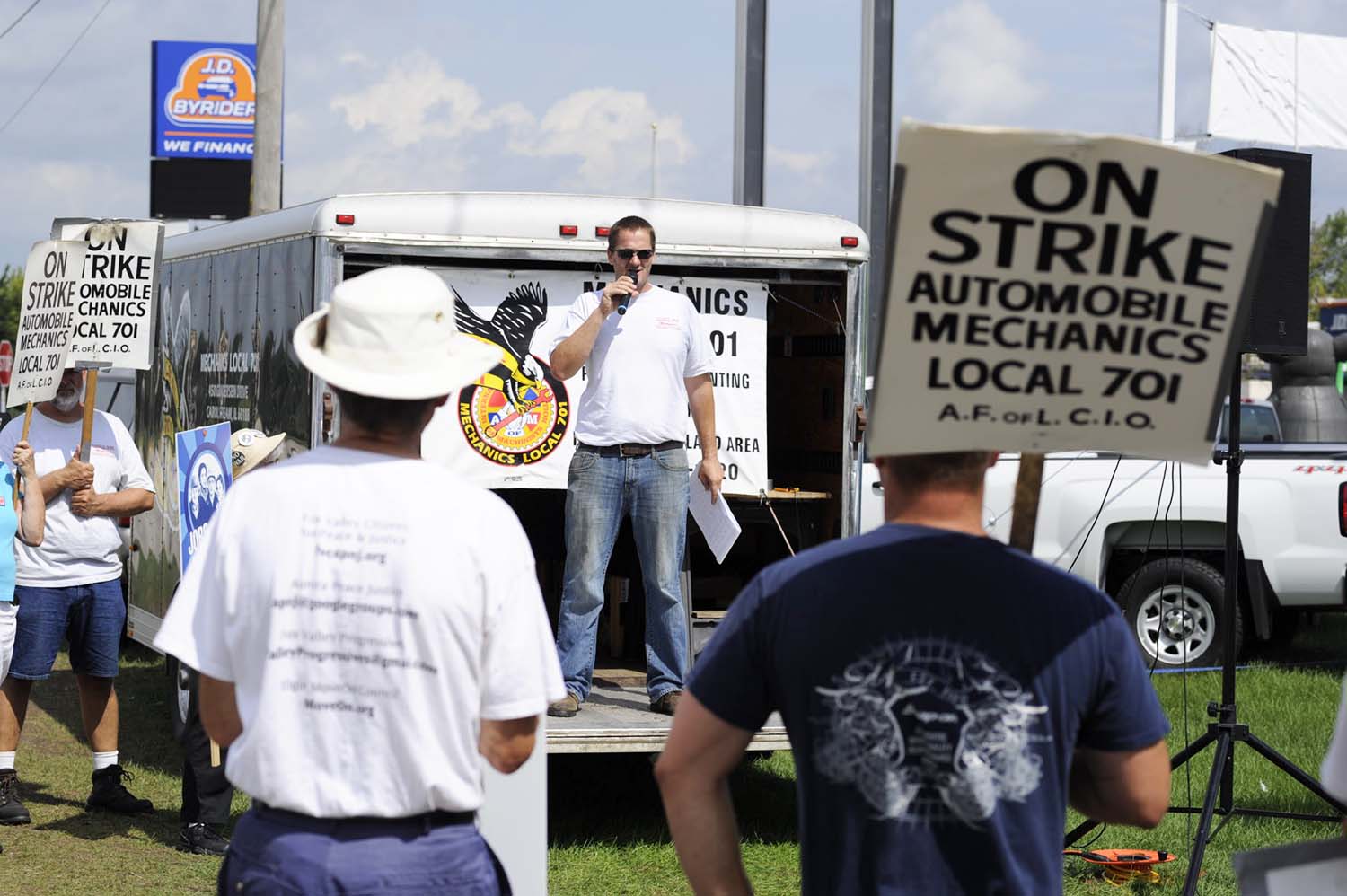 Pat Barcas/staff photographer
Mechanics Local 701 Business Representative Bill LePinske lifts the spirits of striking union members Sept. 5 outside the Al Piemonte Chevrolet dealership in East Dundee.
The mechanics at the Chevrolet store, 770 Dundee Ave., voted 7-2 in early May in favor of joining the union, but the store owners balked, offering half the insurance co-pay coverage and pension that their other stores have in their contract.
"I think they just don't want this store to be union," said LePinske.
He also claims the owners are fighting the mechanics on classification. For example, men that were doing head gasket changes and other advanced repairs before unionization are now relegated to oil change duty, making less money. Federal mediation on the matter was declined by the store owners, and no negotiations have gone forward since the strike.
LePinske said the strike line has had some issues, and now security guards patrol the perimeter of both entrances.
"A salesman punched one of our guys, and after we heckled a customer, he said he was going to go home and get his 9 mm," he said. "Everybody's got to learn to get along."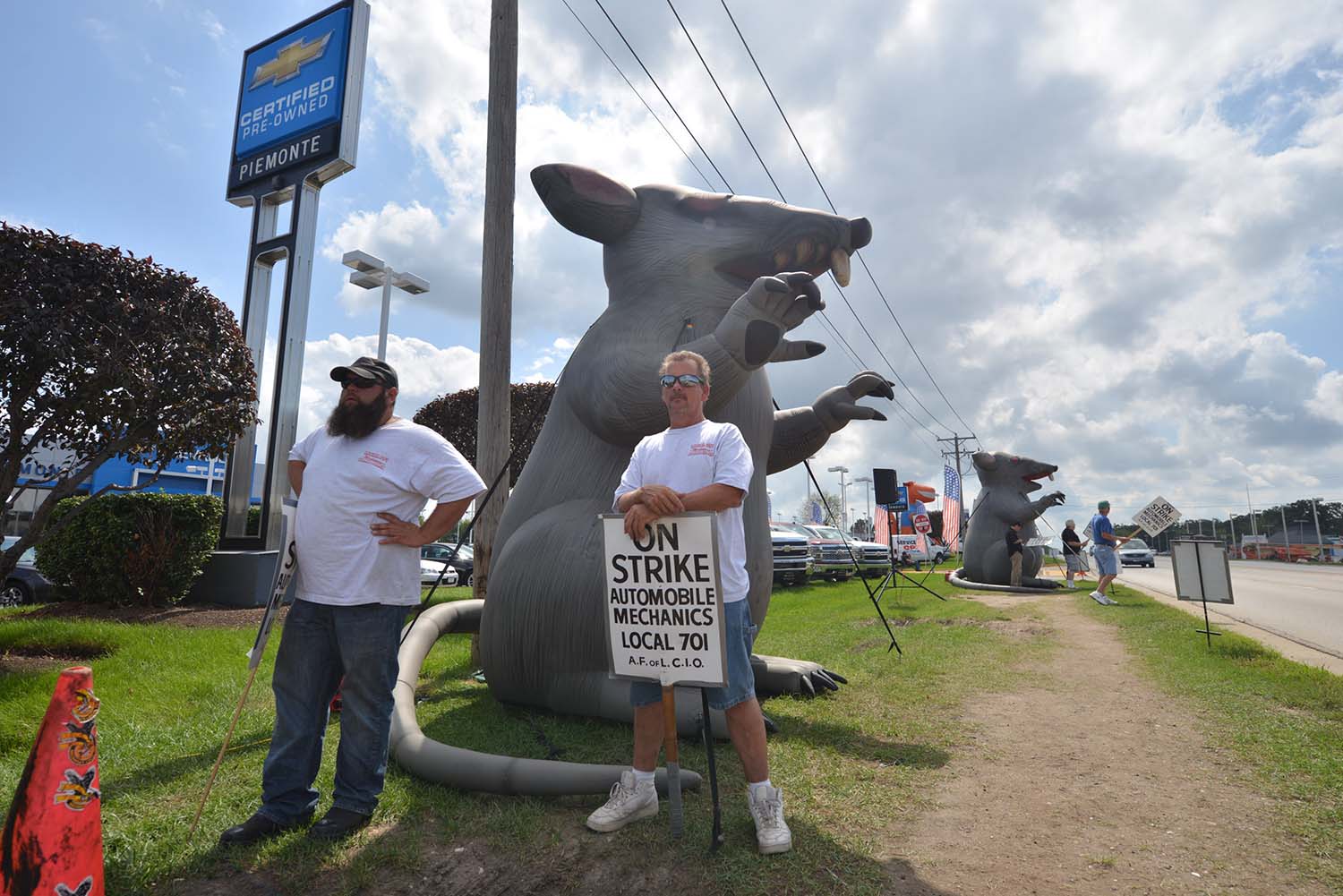 Pat Barcas/staff photographer
All IAMAW Local 701 members want is just the standard automotive agreement contract, something mechanics at other Piemonte group stores enjoy.
A restraining order against the union members was filed to make sure they stay on the public easement in front of the car dealership.
"The most discouraging thing is, they're lying to customers," said Chris Kujawa, a mechanic who has worked at the store nearly four years. "They're telling customers we want more than the standard agreement, something we were never even offered. They offer that, and this is over with. The customers want to believe they are not hurting us by shopping there. They are hurting us."
He said he and the other mechanics don't want to return to work without union representation.
"There's no trust there. Our biggest enemy is customer ignorance. We need to overcome that," said Kujawa.