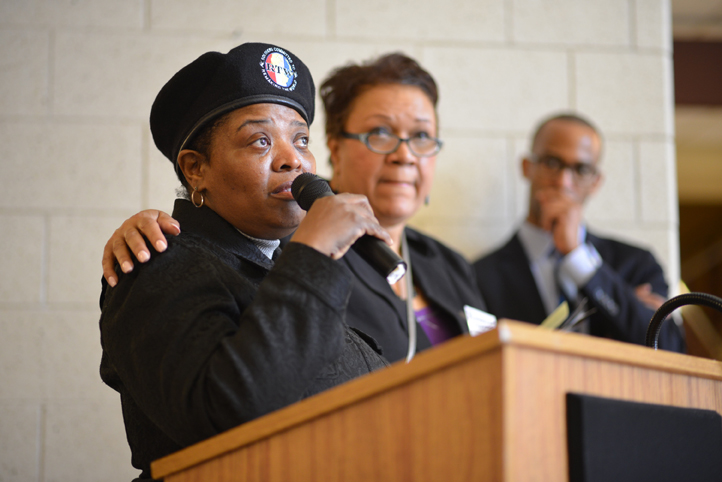 Pat Barcas/staff photographer
RTW Veteran Center Director Arnetha Gholston-Habeel was emotional as she thanked the various unions for their help in repairing the center. Frozen pipes flooded the center's basement and ruined the furnace. Carpenters, sheet metal workers, plumbers and others worked to repair the center.
By Pat Barcas
Staff writer
Thursday Feb. 27, 2014
Email Pat Barcas at pat@foxvalleylabornews.com
CHICAGO — The RTW Veteran Center in Chicago was doing everything it could to re-open this week, thanks to the generous donations of area unions, who helped out after pipes froze and burst in the basement of the center in January, which temporarily closed the non-profit. (RTW stands for Returning to the World.)
The Center houses about 30 veterans in Washington Park, one of the most dangerous neighborhoods in the city. They normally serve about 450 free meals a day to veterans and the homeless, but a door was unintentionally left open Sat., Jan. 25, which led to frozen pipes, a flooded basement, and a non-functioning furnace.
"We got a phone call early Monday morning about what had happened at the Center. Within less than two hours we had carpenters out there, we had plumbers out there, and we had sheetmetal workers out there," said Elizabeth Belcaster, SEIU Local 73 legislative liaison.
"Their heating issues that were down, are now up, their heat is working, and there are some ongoing issues, but labor stepped up as we always do with our veterans," Belcaster explained.
Belcaster works with the Helmets to Hardhats program, coordinating with Chicago and national unions to get veterans jobs when they return from serving. She and SEIU Local 73 Vice President Phil Martini presented a check March 1 for $5,000 to Arnetha Gholston-Habeel, director of the Center.
"This is the first time that we've received money in an amount like this. I'm grateful because there were so many times I've wondered if we'd succeed — we took our entire retirement account to do this, we sold our homes, our cars, we live at the center. This program is saving lives. This program is allowing people to eat who would normally eat out of a garbage can. This program houses homeless veterans," said Gholston-Habeel, who cried tears of joy.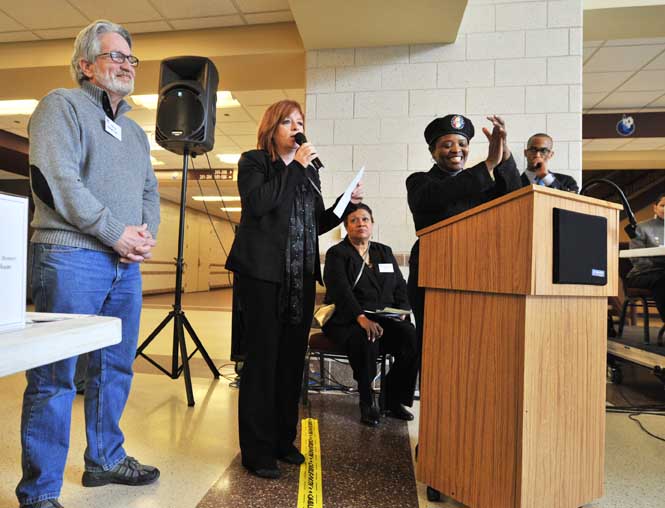 Pat Barcas/staff photographer
From left, SEIU Local 73 Vice President Phil Martini, SEIU Local 73 Legislative Liaison Elizabeth Belcaster, and RTW Veteran Center Director Arnetha Gholston-Habeel announce the news the center was expecting to re-open after being closed for more than a month. After frozen pipes burst Jan. 25, flooded the center's basement and ruined the furnace, area unions stepped up and offered to help fix everything. SEIU Local 73 also gave $5,000 donation to the center.
She explained that the center started off just housing veterans and grew from there.
"It started off with veterans. We walk the parks, we find them, if they're homeless we say this is your last day, you never have to see another homeless day again," she said. "Our center is considered a watering hole, I don't know if you know what that means, but in the wild kingdom, nobody kills at the watering hole."
Gholston-Habeel said the Center employs more ex-offenders and people who cannot pass a drug test than anyone else in the city. They are not funded by the city, state or federal government.
They have received a $25,000 non revenue grant due to crime going down 25 percent in the neighborhood, all directly linked to the RTW Center.
When disaster struck at RTW in January, calls were placed and the hat was passed to Chicago unions, branching out from
Teamsters City downtown. Carpenters, gas workers, SEIU Local 73, and Teamsters Local 786 all contributed to the emergency fund.
"This includes labor as well — the pipefitters, the carpenters, they're going in there to work with these folks also," said Martini.
The Center was scheduled to re-open after a final check of the steam pipes was performed.
"This is what we need these days, people helping people. They've given so much, it's time to help them when they need help," said Jennifer Edwards of SEIU Local 73.