Fox Valley Labor News
staff reports
Thursday, May 28, 2015
OAK BROOK — In two days of protesting May 20 and 21 at McDonald's Headquarters, thousands of protesters urged the mega-corporation pay workers $15 an hour.
Shortly before noon May 20, people who had gathered west of McDonald's campus began walking east towards the headquarters. About 100 protesters were arrested for trespassing as they temporarily blocked two streets around the McDonald's campus.
The Fight for $15 campaign is being spearheaded by the Service Employees International Union (SEIU) President Mary Kay Henry called on McDonald's to sit with the union at a national bargaining table and put some of its profits into the pockets of workers.
"Even when we get $15 and a union we will keep fighting," Henry said.
May 21 protesters were there for the company's annual shareholder meeting. Ten of those protesters were allowed deliver a petition with more than 1 million signatures calling for $15-per-hour wages and talked to company representatives.
Earlier this year, McDonald's said it would raise its starting pay for workers to $1 above the local minimum wage. Labor organizers said the move falls short because it only applies to company-owned stores. Unfortunately, McDonald's Corp. only owns about 10 percent of its stores in the U.S. — the rest are run by franchisees.
McDonald's maintains franchisees are independent owner-operators setting their own policies and wages while adhering to corporate standards on food preparation and restaurant design.
The May 21 shareholders meeting is the first under CEO Steve Easterbrook, who took the helm March 1. Easterbrook's goal is to turn McDonald's into a "modern, progressive burger company."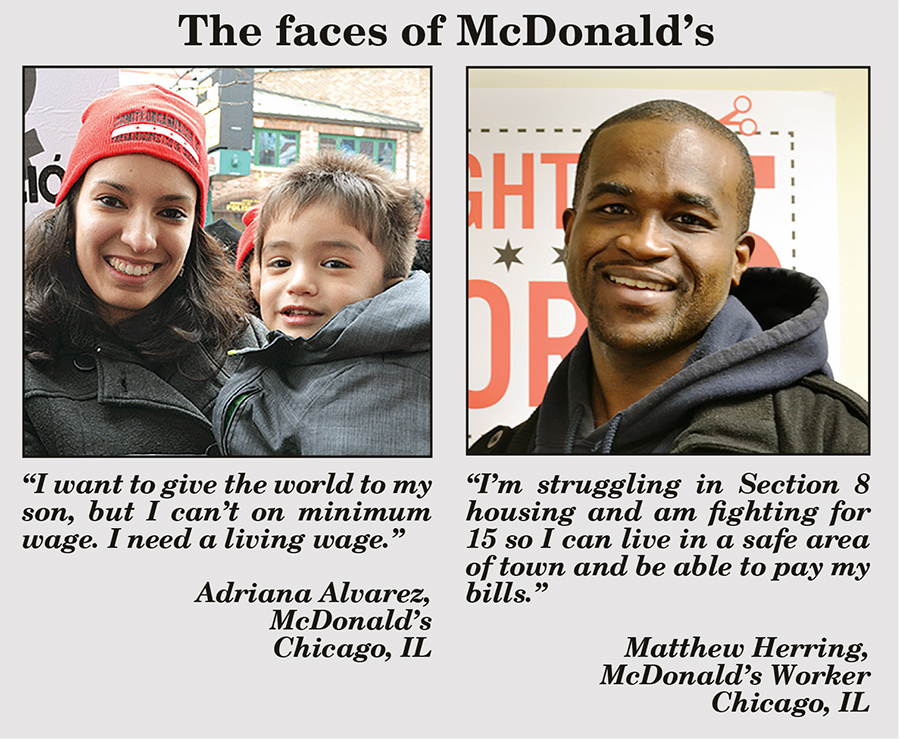 McDonald's also finds itself battling various complaints of labor law violations filed in state and federal courts and with federal agencies.
SEIU alleges McDonald's shares responsibility for employees with franchisees as a joint-employer. The National Labor Relations Board's general counsel agreed with the union, charging McDonald's as a joint-employer in 19 complaints outlining 101 labor law violations, including allegations that the company reduced the hours of workers who have participated in protests against the company.