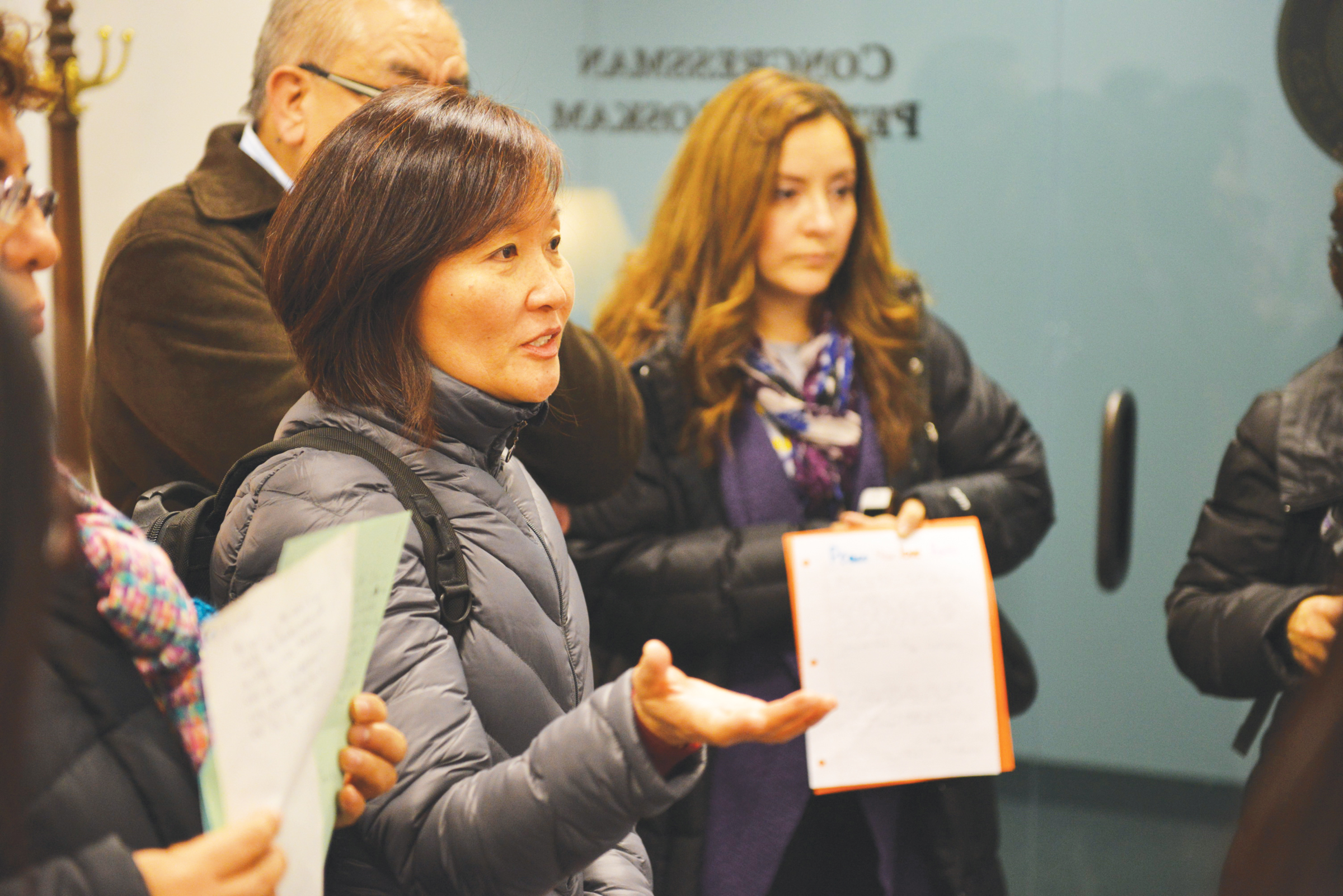 Photo by Pat Barcas
Activist Inhe Choi visited Congressman Peter Roskam's office asking to him to hold a vote on the comprehensive immigration reform bill. Inaction is causing 1,100 immigrant families per day to get separated, which is especially difficult with the upcoming holidays.
By Pat Barcas
Staff Writer
pat@foxvalleylabornews.com.
Thursday, Nov. 28, 2013

WEST CHICAGO — Activists gathered at Congressman Peter Roskam's West Chicago office Nov. 25 asking that immigrant families are kept in mind while the House stalls on passing a comprehensive immigration reform bill this fall.
A new public opinion study released by the nonpartisan Public Religion Research Institute (PRRI) shows that the majority of Americans — 63 percent — favor legislation that will give a path to citizenship for the 11 million undocumented immigrants living in this country.
Congress has yet to hold a vote on the Bill that passed the Senate in June, even though there are enough bipartisan yes votes to nail it down.
Critics blame the inaction on U.S. House Speaker John Boehner and Chief Deputy Whip Peter Roskam.
"This inaction is causing 1,100 immigrant families per day to get separated," said Sik Son, executive director of the Korean American Resource and Cultural Center (KRCC) in Chicago.
His organization and other activists presented 50 letters Nov. 25 at Roskam's office — letters penned by students at the Erie Elementary Charter School in sympathy to immigrant parents who have been arrested and deported.
"These are letters to parents who have been detained and/or deported," said Inhe Choi, KRCC and National Korean American Service & Education Consortium (NAKASEC) member.
"These families will not be able to get together this holiday. We're asking Roskam to call the vote. This is something that very much concerns the Asian community," Choi said.
The Illinois Coalition for Immigrant and Refugee Rights (ICIRR) says more than one million Asian American immigrants and one out of seven Korean Americans are undocumented.
The ICIRR estimates more than one million immigrant families will not be together this holiday because they have been separated by the family immigration visa backlogs, as well as deportation. To date, the Obama administration has executed nearly two million deportations, leaving 3,018,319 children without parents.
One of the goals of immigration reform legislation is to unclog this backlog of applications and make the process more efficient, all while providing a pathway to citizenship instead of deportation.
Roskam was not in his office Monday, but e-mailed a response, saying he does not support a giant, comprehensive bill, but wants several small actions.
Roskam pointed out the House "is working on small, targeted pieces of legislation to advance solutions to these challenges."
He said the correct process is to secure borders, address high-skilled visas and guest worker programs and then give people that are already here a path to citizenship.
"This is an everyday issue and it does affect people on a very personal level," said activist Irene Juaniza.
"I hope lawmakers think about that when spending time with family this Thanksgiving," she added.