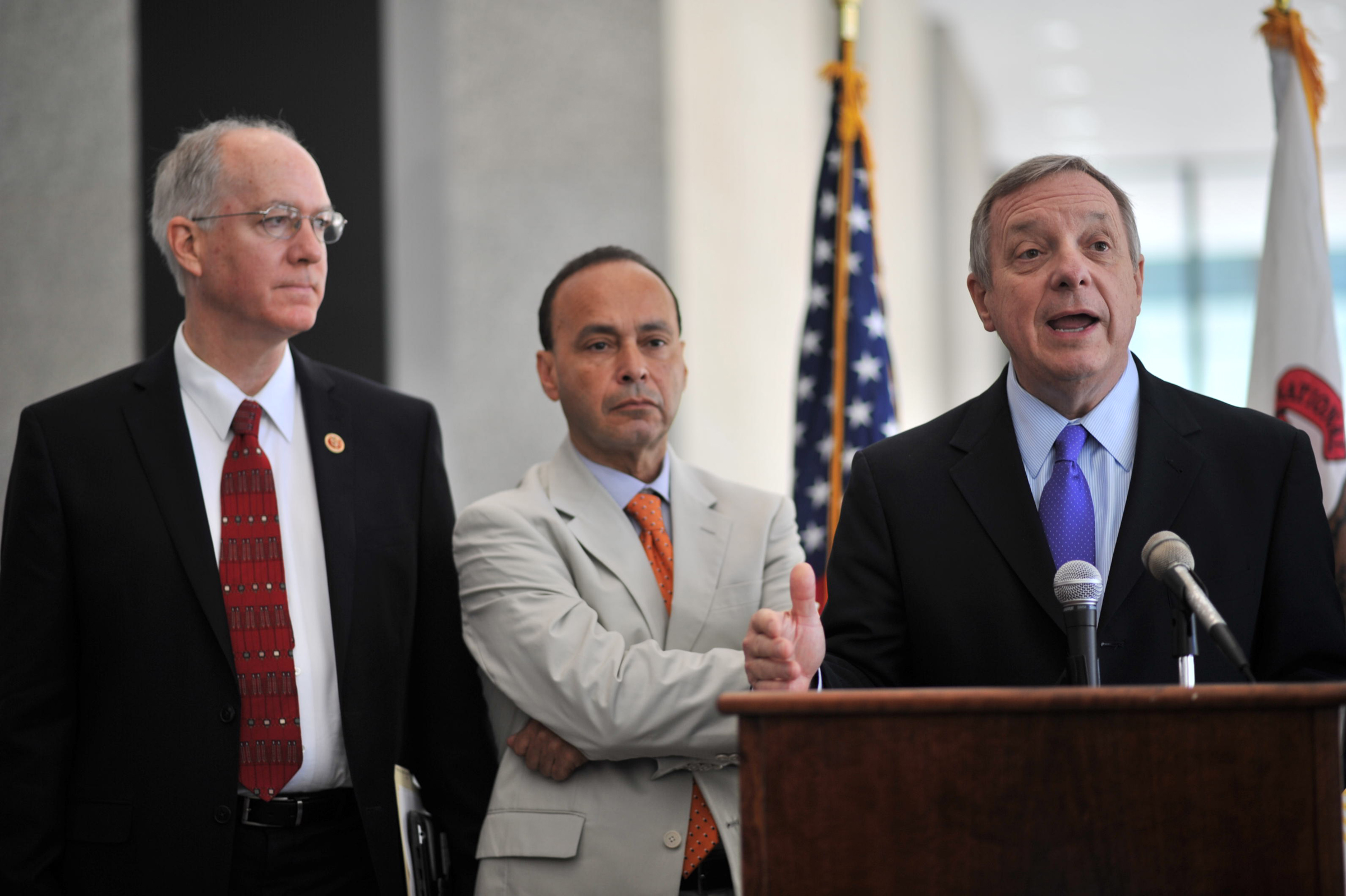 Pat Barcas/staff photographer
From left, Rep. Bill Foster, Rep. Luis Gutierrez and Sen. Dick Durbin met with U.S. Secretary of Homeland Security in Broadview June 13 to discuss federal policy regarding deportations.
By Pat Barcas
Staff writer
Thursday, June 19, 2014
Email Pat Barcas at pat@foxvalleylabornews.com
BROADVIEW — Homeland Security Secretary Jeh Johnson took a tour of the immigrant detention center in Broadview June 13, viewing some of the impact his agency has on undocumented immigrants in this country.
That private tour, as well as a meeting with Chicago area immigration activists, serves as a basis for information Johnson plans to take back to President Obama as he reviews the ongoing deportation policy. Immigration reform proponents are hoping it's another small step toward overall immigration reform in 2014.
"I've seen firsthand the suffering caused by deportations," said U.S. Senator Dick Durbin, who joined Johnson in a press conference at the Dirksen Federal Building downtown, along with U.S. Rep. Luis Gutierrez, and U.S. Rep. Bill Foster. "The pain felt by those individuals and their families is vast and not easily shaken by those of us who have witnessed it firsthand."
The President's review of deportation policies is expected to conclude in August. Johnson said he saw families being broken up at the detention center, and people who were about to be deported who had been here for years.
"We need to pass the (immigration reform) bill for a variety of reasons from my Homeland Security perspective," said Johnson, "I'm looking at how we can fix that system within the confines of existing law."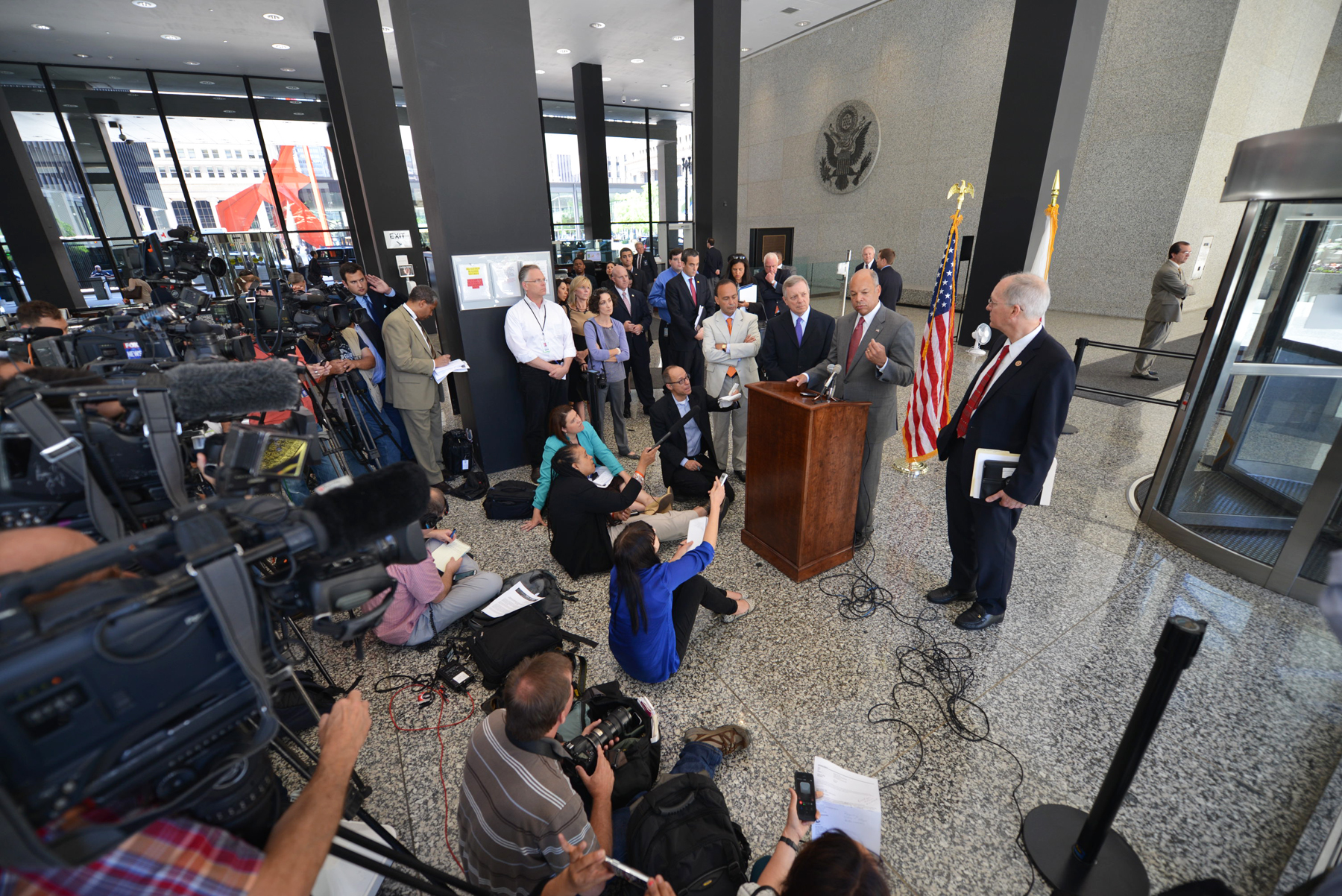 Pat Barcas/staff photographer
Homeland Security Secretary Jeh Johnson visited Illinois at Sen. Dick Durbin's request to learn more about the local impact of his agency's policies. Johnson also toured the Broadview Immigration Detention Center to talk with individuals awaiting imminent deportation.
Gutierrez criticized House Republicans for failing to act on a reform bill.
"The facts remain the same: too many families being broken up, too many deportations, too much detention, too few legal immigration avenues, and too little sense of urgency in Washington among House Republicans," Gutierrez said. "We still have a window to pass sensible border security and immigration reform legislation, but Republicans must act soon or the President will have no choice but to take action within existing law."
Gutierrez said if a vote in the House were called, enough Republicans support reform that the measure would be passed. A hurdle did surface, however, when Republican House Majority Leader Eric Cantor was defeated May 10 to Tea Party candidate David Brat — meaning a vote is even less likely to be called.
"I've always been a supporter of immigration reform, but seeing the ramifications of our broken system at the Broadview Detention Center this morning was a heartbreaking reminder of why we need to keep up the fight," said Foster. "Our broken deportation system is needlessly tearing families apart. We cannot wait any longer. We must pass comprehensive immigration reform now. Next week I hope House Republicans will appoint new leaders who are ready to listen to the millions of voices calling for action. From businesses leaders, to religious leaders, to law enforcement, the call has never been louder: Congress must take action and pass comprehensive immigration reform."