Man's best friend truly is just that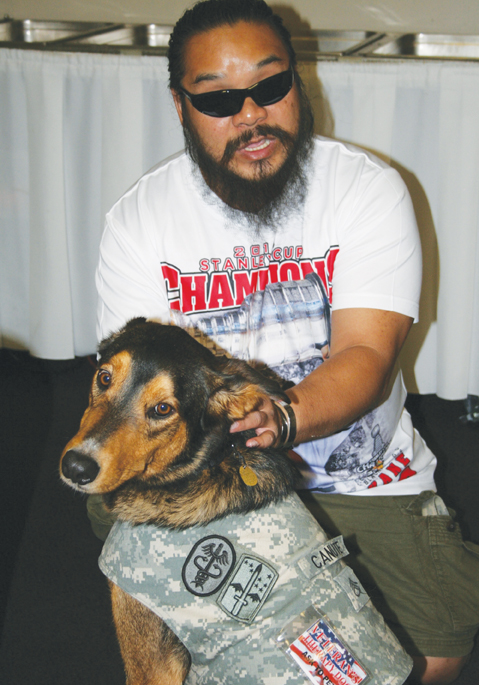 Jennifer Rice/staff photographer

Thursday, July 25, 2013
Ret. Army Sgt. 1st Class Tom Phetsisouk is shown with his SSG Canute. Phetsisouk served two tours in Iraq and one in Afghanistan as an Infantryman with the 172 and 25 Infantry – earning two Bronze Stars and two Purple Hearts. Canute (originally named Scout) was a bomb sniffer who did three tours in Iraq before being wounded and is now Phetsisouk's service dog.
Canute was wounded by and IED, which killed his handler and two other soldiers. Canute suffered a skull fracture and his muzzle and chest plate were badly injured. Army doctors decided the most humane option was to put Canute down. Instead, the organization Pets for Patriots rescued him.
Doctors gave him the best medical care they could, which included rebuilding Canute's muzzle and chest plate. After a lengthy rehab, Canute – dubbed the Miracle Dog, was retrained as a service dog and found himself paired with Phetsisouk.
Phetsisouk currently lives in Hawaii. Recently, both he and Canute traveled to Elgin to visit Phetsisouk's parents. Upon returning to Hawaii, officials indicated Canute was not allowed into Hawaii. Even though Canute left Hawaii a few weeks ago with current rabies tags, Canute could not return to Hawaii without an original rabies certificate.
This military hero, turned service dog will now remain in quarantine for four months. In the meantime, Phetsisouk is without his service dog.
_______________________
Vets honored with 'Quilts of Honor'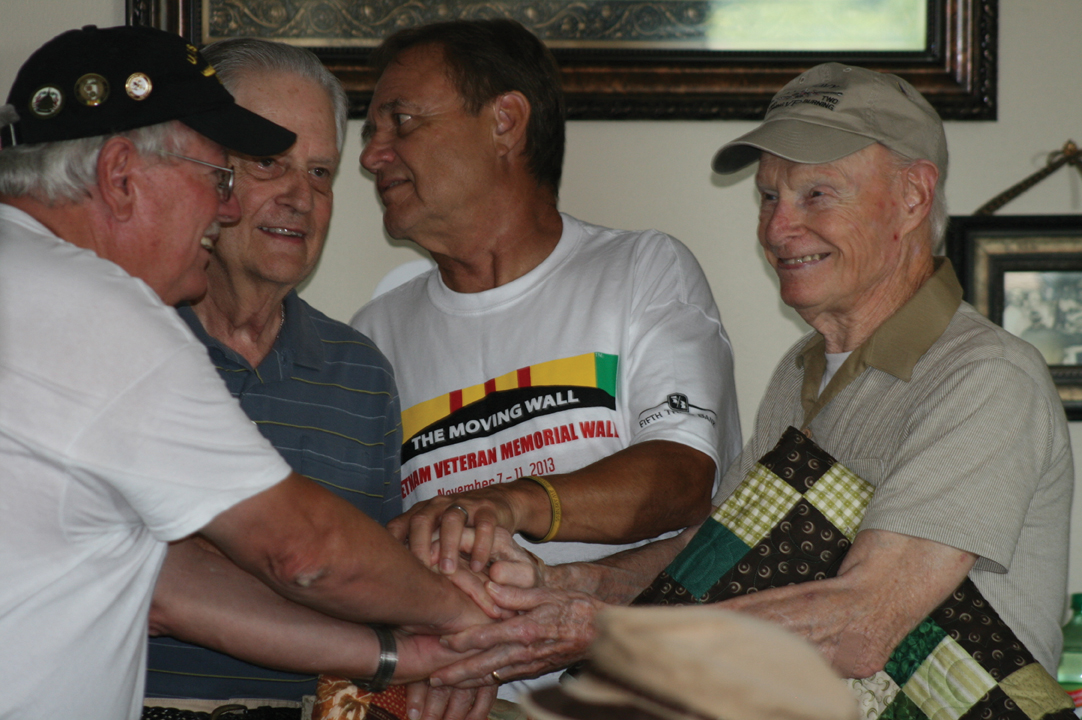 Jennifer Rice/staff photographer

Thursday, July 25, 2013
Three members of the Fox Valley Veteran's Breakfast Club celebrate after they were selected to receive quilts from the Land of Lincoln Quilts of Valor organization.
Breakfast Club President Herschel Luckinbill, left, congratulates Korean vet Joe Allegretti, Vietnam vet Rick Gardner and World War II vet Don Thompson. Rita Pennington, a represenative from Quilts of Valor, presented the quilts.
She explained that its mission is to "cover" all warriors and combat veterans who have been touched by war, or wounded, with their healing and comforting Quilts of Valor. Each veteran was draped with their quilt.
_______________________
Kendall County Salute to Veterans is a success


Jennifer Rice/staff photographer

Thursday, July 25, 2013
Kendall County Salutes to Veterans raised thousands for Honor Flight Chicago. Montgomery resident and World War II Army veteran Delmar Gerth stands for the singing of the Star Spangled Banner.
_______________________
_______________________
American Legion Motorcycle run, steak fry scholarship fundraiser

PLANO – American Legion Leon Burson Post 395 Riders (ALR) is holding its first motorcycle fundraiser for the Legacy Scholarship Fund May 18 at the Legion Post, 510 E. Dearborn St., in Plano.
The Legacy Scholarship is available for any child of a U.S. Service member killed in action. Post 395 ALR will be stopping at other Legion Posts on the 130-mile run, which starts at noon. It ends at 6 p.m. at the Plano Legion Post. Riders will stop at Lockport, New Lenox, Morris and Ottawa Legions along the run.
After the run, the Plano American Legion Post will serve a dinner for riders, which includes a one pound rib eye steak, baked potato, salad and bread. Motorcycle riders do not need to be a member of ALR to take part in the run.
You don't have to be a rider to support this fundraiser. People can buy a ticket for only the meal, or make a donation. Last year, the ALR chapters around the states collected more than $700,000 for the Legacy Scholarship to make sure the children of those who paid the highest price for our freedom may receive a good education. The Legacy Scholarship fund is handled by The American Legion National office.
The ALR chapters are made up of members of the American Legion family who enjoy riding motorcycles. You must be a member of the Legion, Son's of Legion or The Auxiliary. For more details, find the Plano American Legion on Facebook at Plano American Legion Post 395 or on the web at www.planolegion.org. You may also contact the Plano Post Commander Bob Whitmer at planolegion@aol.com, planolegion@aol.com or at 630-552-8313.
_______________________
_______________________
WWII veterans get appreciation for their service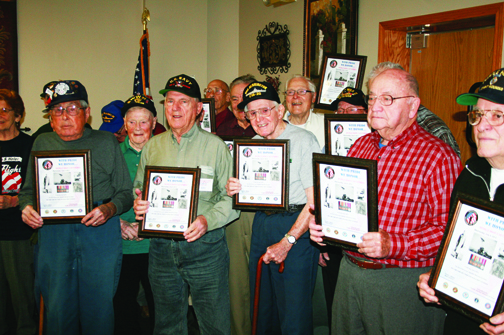 Jennifer Rice photo
Numerous WWII veterans received 'Thank you for Serving' Plaques during a recent Fox Valley Veterans Breakfast Club meeting from the Operation Welcome you Home organization.
By Jennifer Rice
Managing Editor
Thursday, Nov. 15, 2012
MONTGOMERY — Some area veterans didn't have to wait until Veterans Day to be thanked for their service — it came days earlier, during a gathering of veterans at a local restaurant, where the men and women from our Greatest Generation received special recognition for the time they served.
Operation Welcome You Home Illinois founder Donna Morsovillo visited with several dozen veterans during the Fox Valley Veterans Breakfast Club bi-monthly gathering, Thursday Nov. 8 at Grandma's Table. Operation Welcome You Home provides respectful, thoughtful, uplifting and joyous homecomings for returning warriors and their families.
The organization also does so much more, like acknowledges World War II veterans who may not have received a proper welcome home when they returned back home decades ago. For a group of WWII veterans at the breakfast, they finally received the respect they deserved, which included a plaque honoring their service and an Operation Welcome You Home challenge coin.
"We can't thank our men and women veterans enough," Morsovillo said. She comes from a military family where her 89-year-old father is a WWII Army veteran. She's married to a Vietnam Marine and her brother, who passed away as a result of the Vietnam War, also was a Marine.
Morsovillo, along with Kathy Leonard, research assistant for Aurora's Economic Development Commission, handed out the plaques. "On behalf of the city of Aurora and Operation Welcome You Home, we'd like to thank you for your service and welcome you home, World War II veterans," they said to each veteran.
Leonard's son was given a welcome home by Morsovillo's organization. The young man served in Afghanistan in 2010 and was injured in an IED explosion. "When my son was coming home, I wanted to let him know our community was behind him 110 percent," Leonard said. "And this organization showed just that." She's been a volunteer for Welcome You Home ever since.
In addressing the WWII veterans, she said, "Our young men and women are putting their lives on the line every day in Afghanistan, just like you. Only you didn't get the welcome home you deserved, and you should have."
An administrator from Alden of Waterford Rehabilitation and Health Care Center also stopped by to give the numerous veterans a goodie bag, which consisted of a cupcake, cup and a pair of gloves — representative of a handshake from the staff at Alden to the veterans.
Alden representative Nora Tavron also presented each veteran a letter from an Alden resident, who thanked the veterans for their service and explained how proud they were of them.
_______________________
_______________________
Plano American Legion offers welcome homes
Sept. 27, 2012
As more soldiers and Marines return home, members at the Leon Burson Post 395, American Legion post in Plano would like to welcome them home and recognize them for their service.
The post can arrange for any of the different motorcycle rider's group to escort them, and work with local police and fire departments as well. They offer the Plano Post as a gathering and ending point. There is no change or fee. Remember, they are our Brothers and Sisters, members of our group, and American Veterans.
To find out more, contact Bob Whitmer at 630-552-8313. Leave a message with your contact info so he may return your call or e-mail him at: planolegion@aol.com.
_______________________
WWII vet provides link to the past for New York family
By Jennifer Rice
Managing editor
July 5, 2012
ASTORIA, N.Y. — Over the years, the Davison brothers have searched for information on their father, Robert "Bob" Davison, who was a bombardier in the Army Air Force during WWII in the 73rd bomb wing on a B-29 Superfortress heavy bomber.
They had little if any documents from the time their father served in WWII. If given the time, Bob Davison may have told his sons about his combat missions aboard the B-29 planes he flew. Unfortunately, Davison died from a heart attack when he was 47, on June 27, 1967.
After WWII, Davison joined the Air Force Reserves and became a member of the New York Police Department. He made his way up the ranks to sergeant.
His son Jeffrey was 11 when his father died. "The loss of my father still hurts," Davison said. "He touched so many lives. He had a very profound effect on people. My uncles still talk about him to this day," he said.
For these reasons, the Davison brothers occasionally search the Internet for information on their father, coming across various bits of news on the plane he was on — Miss Behavin'. In late May they decided to search once again. They were feeling nostalgic — Memorial Day was approaching.
They came across a Fox Valley Labor News article on Auroran Paul Linden. He was a radar operator on Miss Behavin' and flew 39 combat missions. The article was written during the summer of 2011. The Davison brothers wondered if Linden was still alive? Did he fly with their father, and if Linden did, would he remember Bob Davison?
Another search on the Internet led to a phone number and address for Paul Linden. "I'm a little more reserved and I thought, 'this Paul Linden is now 89, maybe we should write him a letter instead of calling him,'" Jeffrey said.
His brother John wanted to call. So they did. It was Memorial Day evening. On the other end, Paul Linden picked up the phone. "We talked to Paul for more than an hour. It really was astonishing," Jeffery said.
Paul Linden remembers the phone ringing Memorial Day evening. The two men on the other end said their father, Bob Davison, was on his crew. "When they mentioned the name, I said, 'that was our bombardier for 39 missions,'" Linden said.
For more than an hour, Linden talked to the Davison men. "I still remember him. I have a good mind yet and very vivid memories of things that took place," Linden said. "They found me after almost 70 years. It's unbelievable."
During the war, Bob Davison was responsible for bombing targets. He flew in the nose of the B-29, "because that's where you saw the target as you came up on it," Linden remembered. "Bob would press a button to open the bombay doors, and he was the one who let the bombs go."
He told the Davison brothers there were times that a bomb would get hung up on shackles and get stuck. It was the sight gunner's job to make sure all the bombs were gone, but it was Davison's job to get the bomb loose.
"He's put on a safety strap, open the door and climb out there. Usually, just giving it a kick would be enough to make it go. Bob would do this over Japan. He did it very well," Linden said.
Time was of the essence. Linden explained that every bomb had a safety wire. Once the bombs start moving, the safety wire comes out of the bomb and activate. "Now, if it's hung up, we know that wire's been pulled and Bob's got to move fast. He was a good bombardier," Linden said.
These stories and memories about their dad were what Jeffrey called, "an absolute gift."
"It's so easy to forget what a difference one person can make, but just look at the gift [Paul's] given everyone in my family. He's connecting people to events that happened so long ago," Jeffrey said.
After so many years, Linden was able to open doors that had otherwise been closed for the Davison family. Doors that Jeffrey never thought would be open.
To better allow the Davison family to re-connect with their father, Linden mailed them more than 100 pages of documents he's saved, which contain photographs and news clippings.
"These children had nothing on their father. It was the least I could do," Linden remarked. "A child needs to know something about their father."