Fox Valley Labor News
Thursday, Jan. 12, 2017
Local 150 lawsuit strikes down local 'Right to Work' law
ROCKFORD — In a decision issued Jan. 7, United States District Judge Matthew Kennelly found the local "right to work" law passed by the Village of Lincolnshire in 2015 is pre-empted by federal law, and that only states and territories have the authority to such laws. Local 150 and three other plaintiffs were granted summary judgment, with the court ruling on the merits without need for a full trial.
The National Labor Relations Act (NLRA) permits States and Territories the authority to regulate union security agreements via "right to work" laws. Arguing that local units of government have no authority to pass such laws, four unions filed a federal lawsuit against Lincolnshire in early 2016.
The plaintiffs were the International Union of Operating Engineers (IUOE) Locals 150 and 399, the Chicago Regional Council of Carpenters and the Laborers District Council of Chicago and Vicinity.
Judge Kennelly concluded the NLRA "does not permit local subdivisions to regulate union security agreements." Additionally, Kennelly found Lincolnshire has no authority under federal law to regulate union hiring halls or "dues checkoff" agreements between unions and workers they represent.
"We have long argued that local governments simply are not empowered to pass these laws, and we are pleased with Judge Kennelly's decision," said IUOE Local 150 President-Business Manager James M. Sweeney.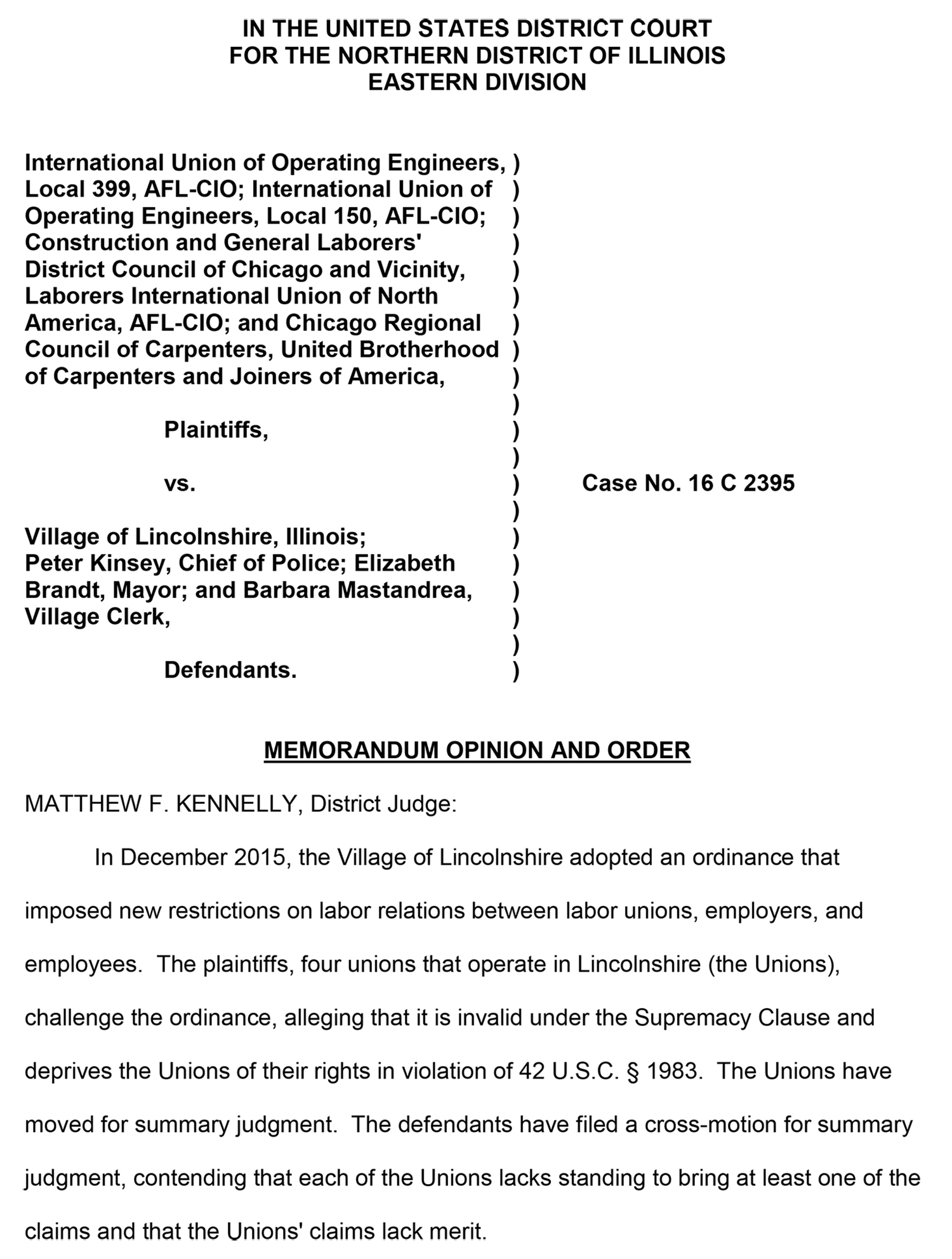 "This was a political attack against middle class workers, and we will always take up the fight on behalf of workers who depend on decent wages and benefits to support themselves and their families," Sweeney added.
The Mayor of Lincolnshire requested the Village Board consider a Right to Work Ordinance that was drafted by the Illinois Policy Institute. Dec. 14, 2015, despite overwhelming public opposition and significant doubt cast upon the legality of the ordinance, the Village Board chose to pass the anti-union partisan policy, which lowers wages and living standards for all workers.
In March 2016, the Northeastern Illinois Federation of Labor, AFL-CIO, endorsed a boycott of all non-union businesses in Lincolnshire for passing Right to Work ordinances.
At the announcement of the boycott, Northeastern Illinois Federation of Labor, AFL-CIO President Patrick Statter said the labor movement stood in solidarity against the ordinance and strongly encouraged the public to use their purchasing power to send a message to the Village of Lincolnshire.
"Lincolnshire officials have continuously supported Gov. Bruce Rauner and aligned themselves with his anti-worker agenda; while at the same time, attacking Unions and working people," Statter stressed at the time of the boycott.
The International Union of Operating Engineers, Local 150 is a labor union representing 23,000 working men and women in Illinois, Indiana and Iowa. Local 150 represents workers in various industries, including construction, construction material development, public works, concrete pumping, steel mill service, slag processing and others.
-Local 150