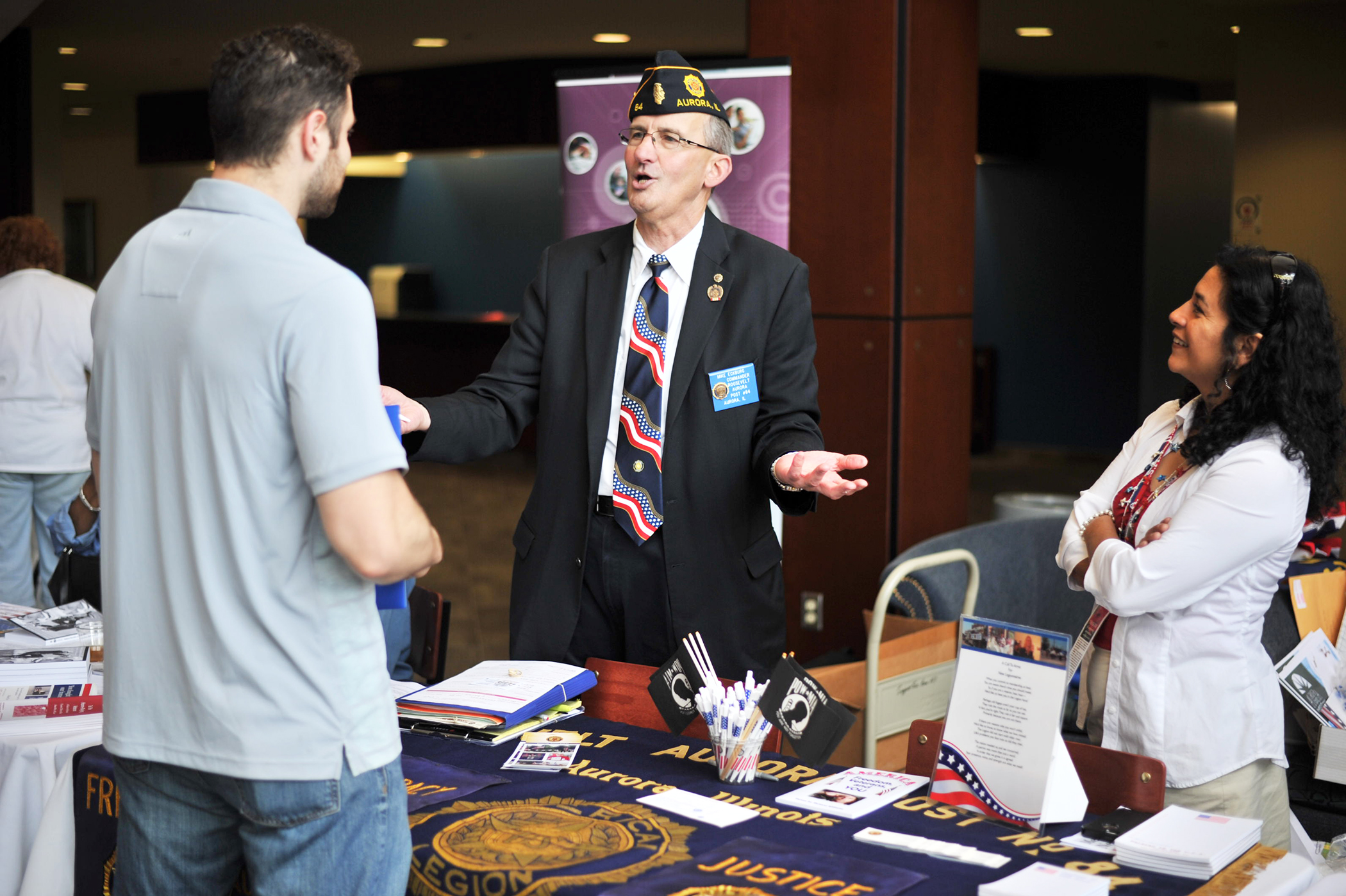 Pat Barcas/staff photographer
Legion Post 84 Commander Mike Eckburg, along with Post 84 Auxiliary Unit President Norma Peterson, talk with a veteran about what the American Legion stands for.
By Pat Barcas
Staff writer
Thursday, June 26, 2014
Email Pat Barcas at pat@foxvalleylabornews.com
AURORA — The City of Aurora lived up to its veteran friendly reputation as it hosted its second annual Veterans Resource Fair June 20.
Veterans were invited to check out information about educational opportunities, employment, housing, health care, mental health, financial programs, legislative assistance, and other area veterans' organizations.
The fair was hosted by the Veterans Advisory Council, Aurora University, and the DuPage County Veterans Center at the Aurora University Institute for Collaboration.
"Our goal is to get information and help to any veterans who might need it," said Bob McKnight of the council.
Norma Peterson, president of the Aurora Auxiliary unit of the American Legion Post 84, said the Legion benefits the community as a whole.
"There are 26,000 veterans in the Aurora area. Not only are we doing things for other veterans, we're doing it for the community. The American Legion stands for Americanism at its finest," she said.
Often times, said Peterson, a veteran may just need a sense of companionship or brotherhood when returning home.
"It's a sense of community, of doing things with other people while doing a lot of healing themselves. Young vets may not realize the resources we can provide for them," Peterson explained.
The Aurora Library was there to present its vast resources. While not typically associated with veterans, Chris Schabel informed that veterans can benefit greatly from the library.
"Veterans coming home, some of them might need to brush up on their literacy. We offer classes on that and also computer classes. This can aid in getting a job," she said. "We're working toward having as many free and available resources for the community as we can have."
Many returning vets may not know of the free services that the DuPage County Vet Center provides — namely counseling for vets who have suffered military trauma or sexual trauma while serving. They also offer counseling to family members of those that have been killed in service, all without any wait lists. There is a branch in Aurora, located at 750 Shoreline Drive, Suite 150.
Another huge overlooked resource is Aurora's own Old Second National Bank, which has a program for veteran first time home buyers where the bank will pay $10,000 in assistance to buy a home in Illinois.
"We're actually having our first closing of the Welcome Home Heroes program this week," said Old Second National Bank Vice-President of Real Estate Lending Phillip DeLaFuente.
"It's our way of saying thanks for serving," DeLaFuente explained."