Pat Barcas/staff photographer
Chuck and Kathy Granholm enjoy the sweet sounds of the Aurora Lamplighters Barbershop Chorus during a dinner held by the Aurora Veterans Advisory Council.
By Pat Barcas
Staff writer
Thursday, July 10, 2014
Email Pat Barcas at pat@foxvalleylabornews.com
AURORA — With more than 26,000 veterans in the Aurora area alone, it's no wonder the city is known as veteran-friendly.
With that massive veteran population in mind, the various area military organizations decided to come together July 3 at a meet and greet dinner to streamline their operations and make sure they are working side by side efficiently.
The dinner was sponsored by the Aurora Veterans Advisory Council (VAC), Fifth Third Bank, and Dolan and Murphy, and hosted by the Knights of Columbus No. 14825 at St. Rita of Cascia parish in Aurora. The Aurora Lamplighters Barbershop Chorus provided entertainment after the Knights presented the colors.
"This is a great way to get veterans together in the Aurora area and for everyone to understand the missions of the different organizations," said Mike Eckburg, post commander at Aurora American Legion Post #84. "The amount of veterans in the area, that's a big outreach that we've got to get. We're focusing on the younger generation and all the vets returning now. We've got our work cut out for us."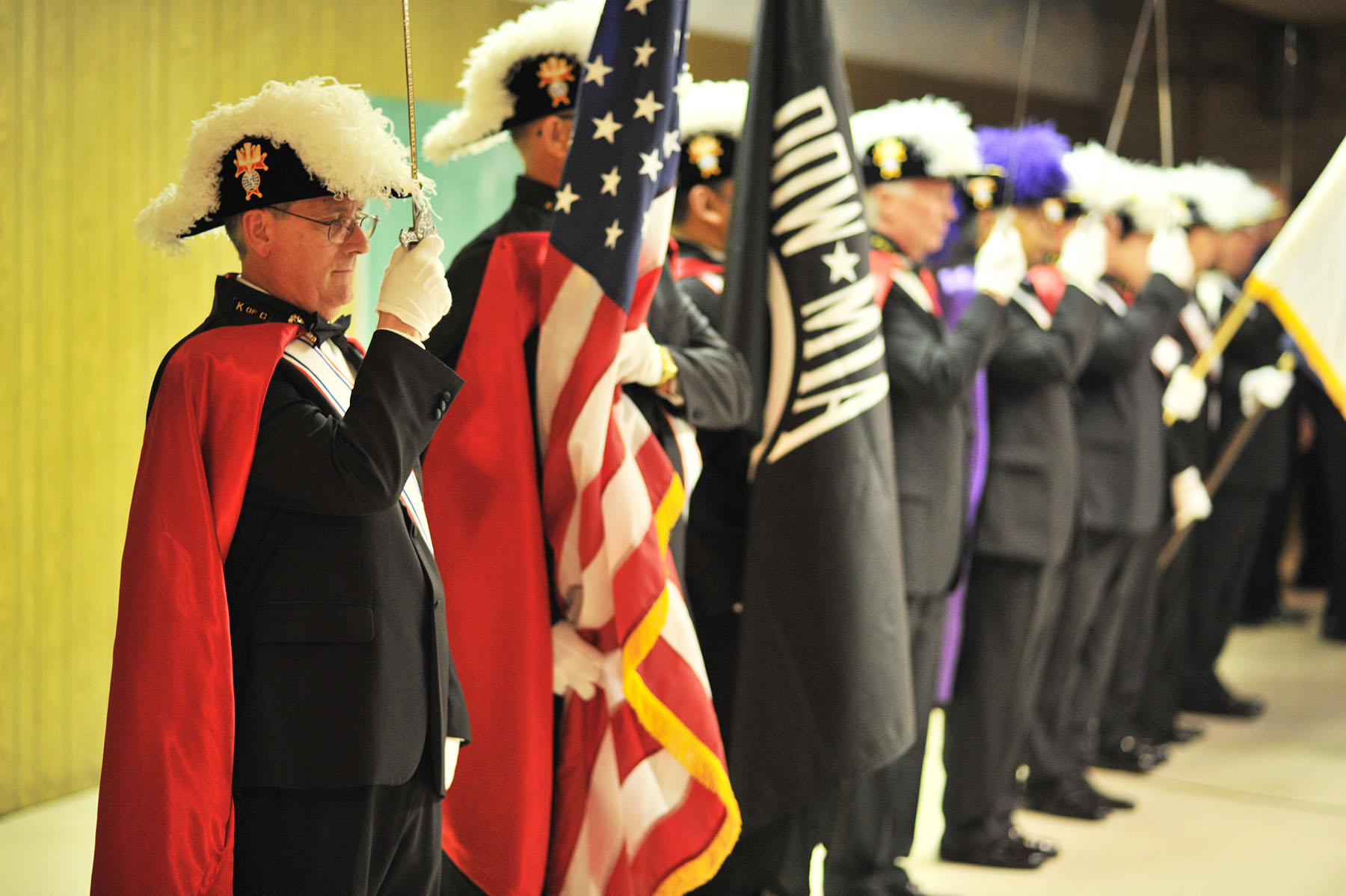 Pat Barcas/staff photographer
Members of the Knights of Columbus No. 14825 honor aurora-area veterans with a dinner.
Joe Toma, chairman of the Aurora Veterans Advisory Council said the organization is ready and willing to help veterans, they just need to know the Council is there.
"We serve as a conduit for the city to all veterans. We reach out to the individual, the family, whoever needs the help," he said. "We have 15 people on the Council to help, anything we can do to help a veteran. We are trying to get involved with the other groups in Aurora, and hopefully in the future we'll be showing people what we do on a larger scale."
The VAC, which was formed in 1998, was expanded in 2012 to have 15 members. It consists of eight members in good standing of an active veteran's organization in the Aurora community, five members who are non-affiliated veterans who have been honorably discharged from the military, and two seats filled by immediate family members of a living or deceased veteran. The Advisory Council is composed of Aurora residents from all branches of the military.
Toma read the mission statement of the VAC: "We are advocates for all veterans of all generations and all conflicts. We shall ensure our citizens, our city and our nation remember the sacrifices of those gone and those who remain. We shall work on their behalf to enlighten the city of veteran situations and likewise inform the citizens about the city's efforts for veterans."