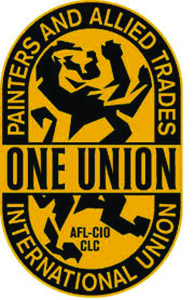 Fox Valley Labor News
staff reports
Thursday, April 21, 2016
The International Union of Painters and Allied Trades annual Community Day of Action takes a day to give back
AURORA — International Union of Painters and Allied Trades (IUPAT) members across the U.S. and Canada worked on projects April 16 to better their communities as a part of their annual IUPAT Community Day of Action.
In Aurora, members of Painters District Council 30 members painted the interior of three apartment unions in the 300 block of West New York Street in Aurora.
Although the IUPAT has a long tradition of community service, the goal of the Community Day of Action was to come together as one union, on one day, to make a difference in the many communities in which IUPAT members live and work.
The result was a great success as thousands of volunteers renovated shelters, community centers, youth athletic fields, and low income housing, and spearheaded food drives across North America. IUPAT groups also held educational forums on immigration, and workers' rights on the job regarding wages and benefits.
"Today was a great day," said IUPAT General President Kenneth Rigmaiden in Baltimore after lending a hand in cleaning and painting in a local neighborhood. "I was proud to see and hear about IUPAT and community volunteers coming together and working as one across the U.S. and Canada to make a difference in our communities. There's more work to be done, but I think we've made it clear we are up to the task, and we are looking forward to being an agent of change within our communities."
Union members are more than advocates for fair wages, rights and benefits on the job. They are good neighbors in their communities. The IUPAT Community Day of Action is yet one more example of how organized labor is a positive force for working families — both union and non-union.
With hundreds of buckets of paint now empty, an abundance of windows replaced and repaired, dozens of neighborhoods and fields free of trash while sporting a new shine, and IUPAT neighbors now armed with the resources to start a new career in the Trades with full knowledge of their rights in the workplace, the members of the International Union of Painters and Allied Trades and the Community Day of Action proved that powerful and lasting changes can be made in just one day when different groups unite to work together.