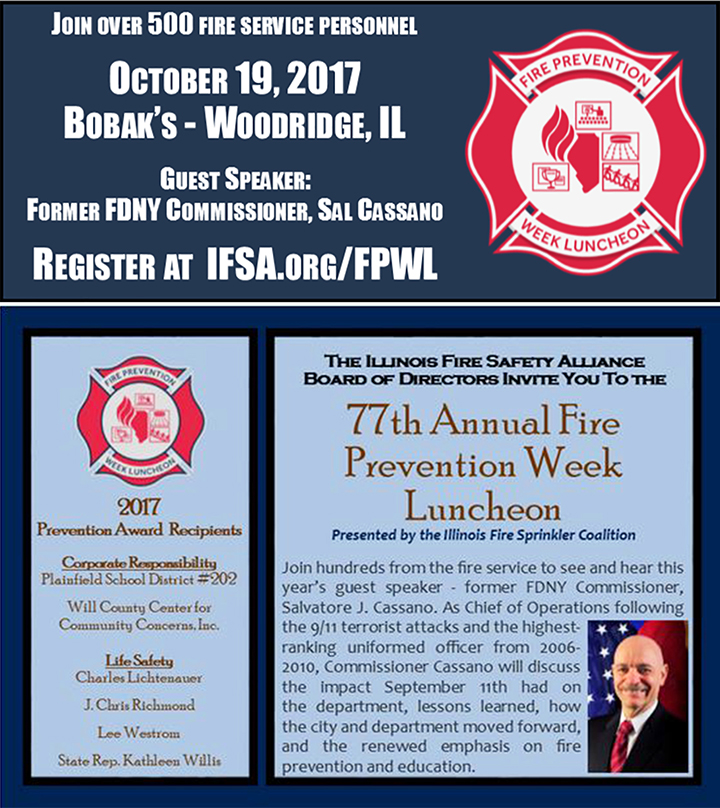 Fox Valley Labor News staff reports
Thursday, Oct. 5, 2017
MT. PROSPECT — Join hundreds of members from the fire service and beyond at the 77th annual Fire Prevention Week Luncheon, hosted by the Illinois Fire Safety Alliance. Get your tickets at the Illinois Fire Safety Alliance website.
The Fire Prevention Week Luncheon includes a guest presenter, gourmet lunch and networking opportunities. The event also highlights and honors those who have gone above and beyond in fire safety and burn prevention, as each year the IFSA receives nominations and presents awards for various categories.
9/11 changed the way we lived and will be a day forever remembered in the fire service industry – and especially for the FDNY. Sal Cassano will discuss the impact of 9/11 on the department he oversaw, what lessons were learned and most importantly, how the department and the city moved on. While there was a focus to rebuild, the FDNY made sure it increased interaction with the public and placed a renewed emphasis on fire prevention and education.
Cassano served as the 32nd Fire Commissioner in the 151-year history of the New York Fire Department (FDNY), leading the United States' largest fire department with more than 16,000 fire, EMS, and civilian members and an annual budget of $1.6 billion.
Commissioner Cassano spent more than 44 years in the FDNY and held every uniformed rank prior to his appointment by Mayor Michael R. Bloomberg in January, 2010. Commissioner Cassano served as the FDNY's Chief of Department — the highest-ranking uniformed officer — from 2006-10, overseeing many of the agency's most important bureaus including Fire & EMS Operations, Training, Safety, Fire Prevention, and Communications.
From 2001-06, he served as Chief of Operations — a position to which he was appointed immediately after Sept. 11, 2001. Both as Chief of Operations and Chief of Department, Commissioner Cassano played a crucial role in rebuilding the department in the wake of September 11 and the loss of 343 members of the department.
In the years that followed, more than 6,800 new firefighters were hired and more than 6,000 others were promoted to various officer ranks as the department went through a difficult but remarkable resurgence. Under his leadership, the FDNY became better equipped, trained, and prepared than ever before in its history, and achieved unprecedented success with the fewest civilian fire fatalities ever and the fastest response times on records.