SCHAUMBURG — When you're shopping for eyeglasses, you may be wondering if the typical optical store at the mall accepts your insurance, and if they will give you the attention you need for your glasses or contacts.
And what about those '2 glasses for $100' bargain? Is it really a good deal?
After working a few months at a major optical store, Brandon Horndasch can tell you the price advertised at the mall optical store isn't always the price you pay.
"They present those packages because they are a loss leader. They want to talk the customer out of the package, and to go with something more expensive," Horndasch explained. "If they don't have to, they really don't want to take your insurance," he added. Horndasch is an account manager and labor liaison for Eye Boutique.
What started as a single store in Kenosha, Wisconsin to handle the needs of UAW workers in that town, Eye Boutique has now grown into 40 stores in Wisconsin, Indiana and Illinois.
Eye Boutique Sales/Marketing Representative Dan Emerick said the original Kenosha, Wisconsin store received such positive feedback from UAW members, management decided to focus on other Locals. "The next thing you know, we opened stores in Sheboygan and Janesville, Wisconsin, which led us to service Caterpillar UAW members in Peoria."
In 2008, Eye Boutique opened its first optical store in Illinois. Among the three states, the Eye Boutique lab manufactures between 400-500 eyeglasses a day. It doesn't source work out to different labs. "Everything we do, from anti-reflective coating to sunglass lenses to sunglass tinting — it's all done at our lab, in-house, by UFCW Local 1473 union members," Horndasch explained.
Eye Boutique is an optical company that welcomes, with open arms, groups with insurance; including unions. Eye Boutique goes over customer benefits with the patient over the phone — an appointment isn't needed. "We have no trouble helping customers over the phone. We can look up their insurance and give them a run-down of their benefits," Horndasch said.
Eye Boutique has built relationships with, and work closely with, unions through VSP insurance like the UAW, Postal Workers, Letter Carriers, Teamsters, Tile Workers and the IBEW.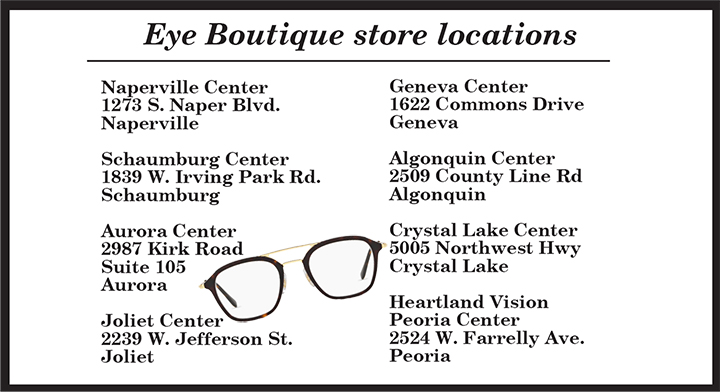 With a strong focus on servicing union members, Eye Boutique understands it isn't in the 9 a.m. to 5 p.m. market, so it offers extended hours, weekend and holiday hours to accommodate union members.
Eye Boutique carries a large selection of eyewear suitable for all lifestyles like Ray-Ban, Oakley, Coach, Nike and Flexon, as well as a wide variety of contacts. They also carries prescription safety glasses.
"We tailor to the needs of our customers," Emerick said. "Customers who have vision benefits, we can work to create a plan for them," he explained.