Fox Valley Labor News
Thursday, Jan. 12, 2017
Big win for postal workers who waged a three-year campaign against Staples/USPS partnership
WASHINGTON, D.C. — The boycott against Staples is over. Postal management informed the APWU in writing the "Approved Shipper" program in Staples stores will be shut down by the end of February 2017. This victory concludes the APWU's three-year struggle.
"I salute and commend every member and supporter who made this victory possible," said APWU President Mark Dimondstein. "I never doubted that if we stayed the course, stuck together and kept the activist pressure on, we would win this fight.
"The Staples pilot was an acceleration in the privatization of retail services and a direct assault on our jobs.It was time to draw a line in the sand. We wasted no time swinging into action," Dimondstein continued.
Early in 2014, the Stop Staples campaign started to put pressure on Staples and the USPS. APWU members staged a country-wide National Day of Action with 56 Stop Staples protests in 27 states. After this, the APWU launched the official Staples Boycott.
"If Staples was going to take our work and jobs for their private profit, we were going to hit back and affect their bottom line," Dimondstein explained.
The fight continued for another two and a half years, but APWU members did not give up.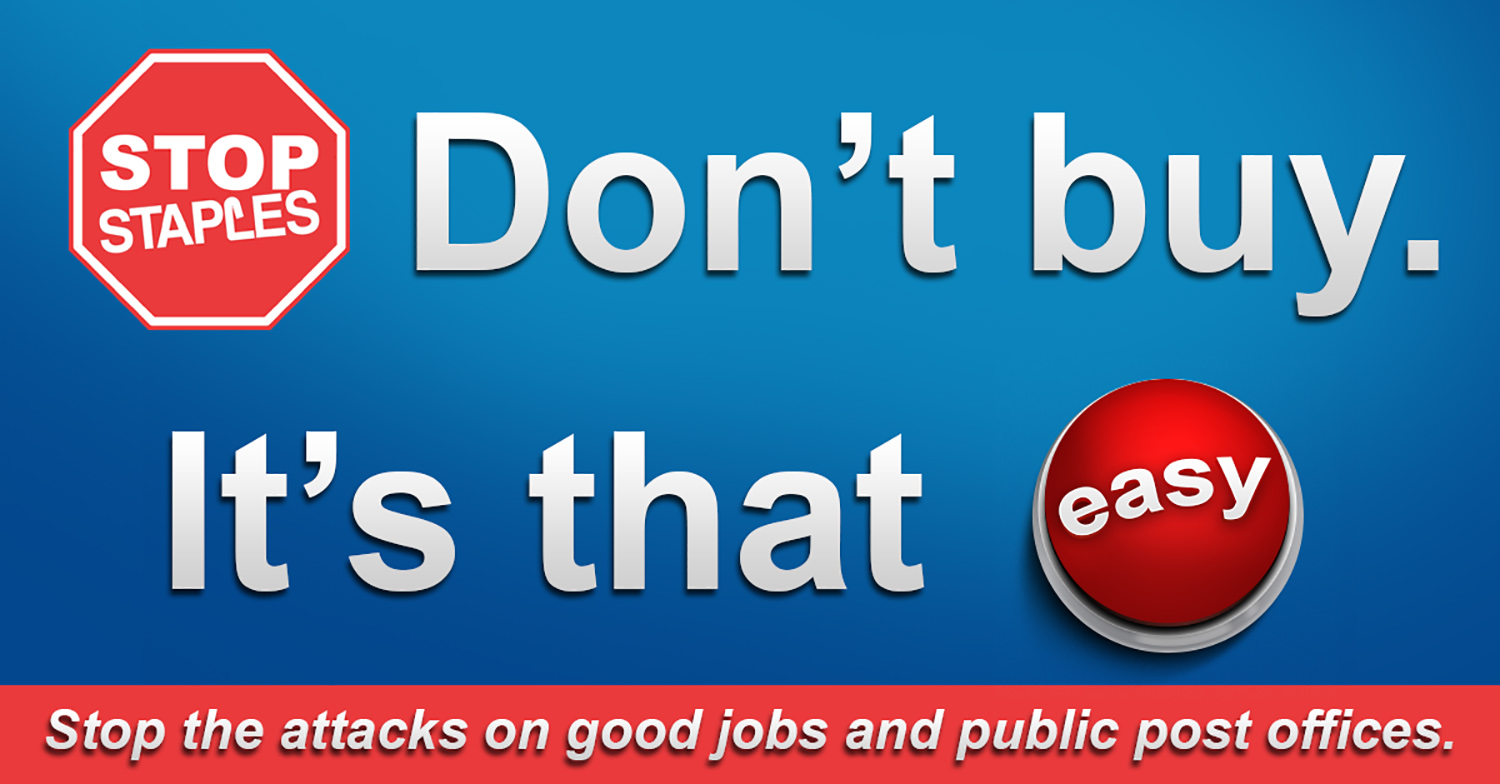 In February 2015, the APWU released two research papers critical of Staples' proposed $5.5 billion merger with Office Depot and met with the staff of the Federal Trade Commission (FTC) examining the merger. The FTC eventually blocked the merger and Staples was forced to pay a $250 million penalty to Office Depot.
The APWU carried out investigations that proved Staples was shortchanging the Postal Service in revenue, undermining the security of the mail and trashing the Postal Service's brand. The union requested a USPS Office of Inspector General (OIG) investigation that further proved these facts.
"This is not only a victory regarding the Staples' dirty deal," Dimondstein said. "In regards to the USPS's planned retail privatization expansion to dozens of other corporations, those companies have largely backed-off and gotten the message — mess with postal workers and customers and you will have to tangle with the APWU family."
"With the Staples deal out of the way, there is a fresh opportunity for postal management and the APWU to consider the future expansion and improvement of retail operations without these misguided privatization schemes that undermine great service, good jobs, and a strong postal brand." Dimondstein added.
"A job well-done, Sisters and Brothers!" said Dimondstein. "The struggle continues and this victory helps strengthen and steel us for the battles ahead."
-American Postal Workers Union