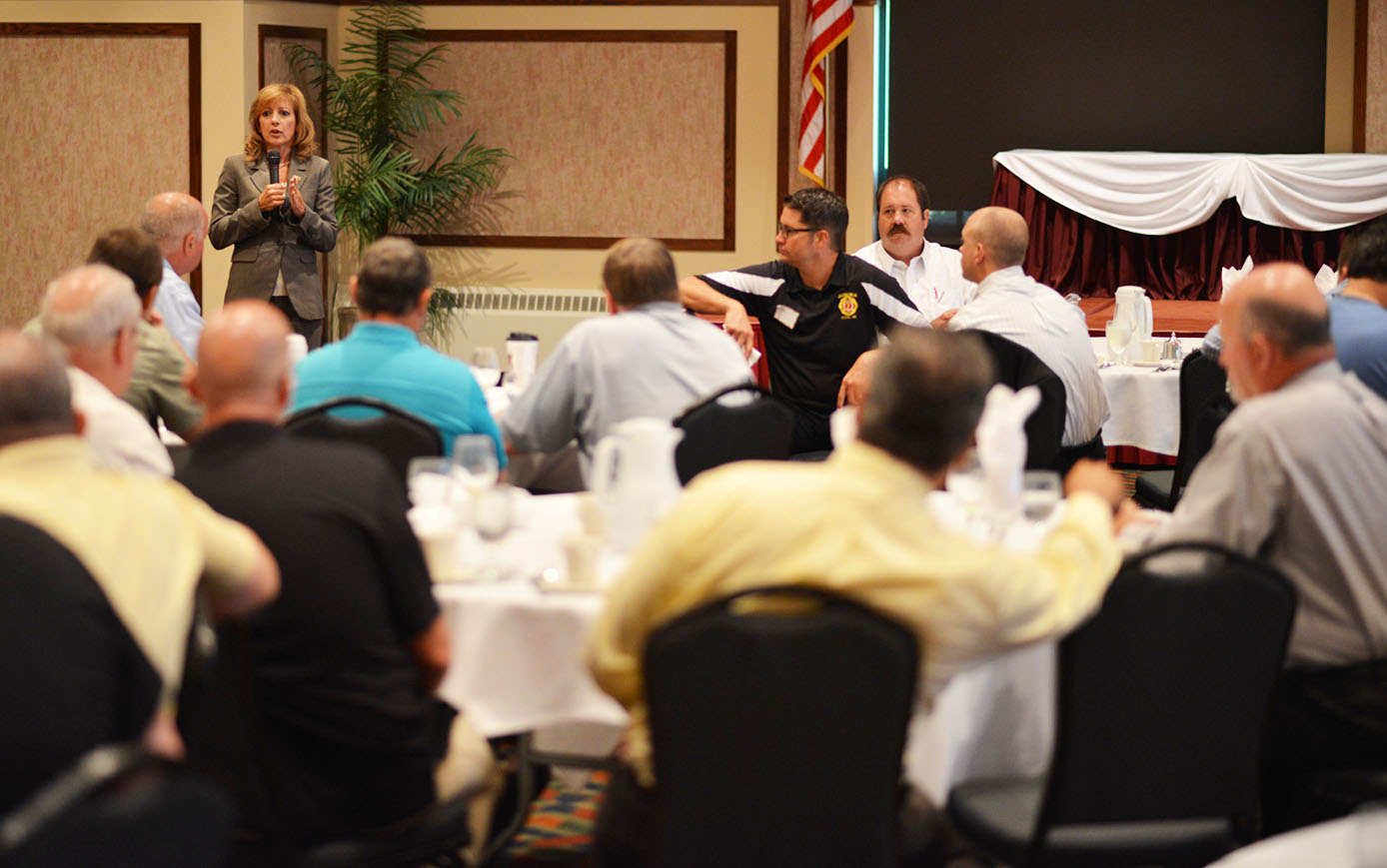 Pat Barcas/staff photographer
Sen. Linda Holmes thanked the leadership and members of unions for their dedication to the workforce, which impacts lives everywhere.
By Pat Barcas
Staff writer
Thursday, Sept. 4, 2014
Email Pat Barcas at pat@foxvalleylabornews.com
View speech at Fox Valley Labor News YouTube Channel
AURORA — As the still yet unresolved Illinois pension issue drags on, State Sen. Linda Holmes said she's going to bat for organized labor in the state.
"It's a simple black and white issue. A group of people collectively bargained. Promises were made. They did their part. You don't break a promise. It's that simple. It was a matter of what is right, and what is wrong," she said. "I will be back at the table negotiating, and will continue to fight on your behalf simply because it just makes sense. It economically makes sense that we're out there supporting you, and you guys are making a good living wage."
Holmes, who is running unopposed this fall, hosted her annual labor breakfast Aug. 28 at Pipers Banquets in Aurora. She is vice-chair of the labor committee in Springfield and said a non-resolution of the pension crisis means people simply don't know what to count on.
"I was the one dissenting vote on the Pension Conference Committee. The toughest part for people is not knowing," she said. "It's a very scary thing, especially if they are close to retirement. That's the terrifying part. I can ensure you as this comes up again, I will make sure to be an active voice in this."
She offered a big thank you to her working constituents as the Labor Day holiday approached.
"I celebrate working men and women who made this country what it is. What we're doing is celebrating what you do because it impacts every minute of our day," she said.
She imagined a world without skilled labor.
"Think of how we would function without your part in what you do. From the minute we wake up, looking at the alarm taking electricity to function, to taking a shower thanks to plumbers and pipefitters, to the house you live in, putting a roof over your head, all the construction that goes into building that house — think of how every one of you affects every little bit of our daily life, and what would we do without that," she said. "I don't want to live in a world without a skilled plumber, or skilled electricians."
Holmes said a big problem now is people think modern infrastructure can be achieved without using skilled labor.
"Do you really want your houses built, your roads built, your bridges built without someone who is skilled in their trade? We absolutely don't," she said.