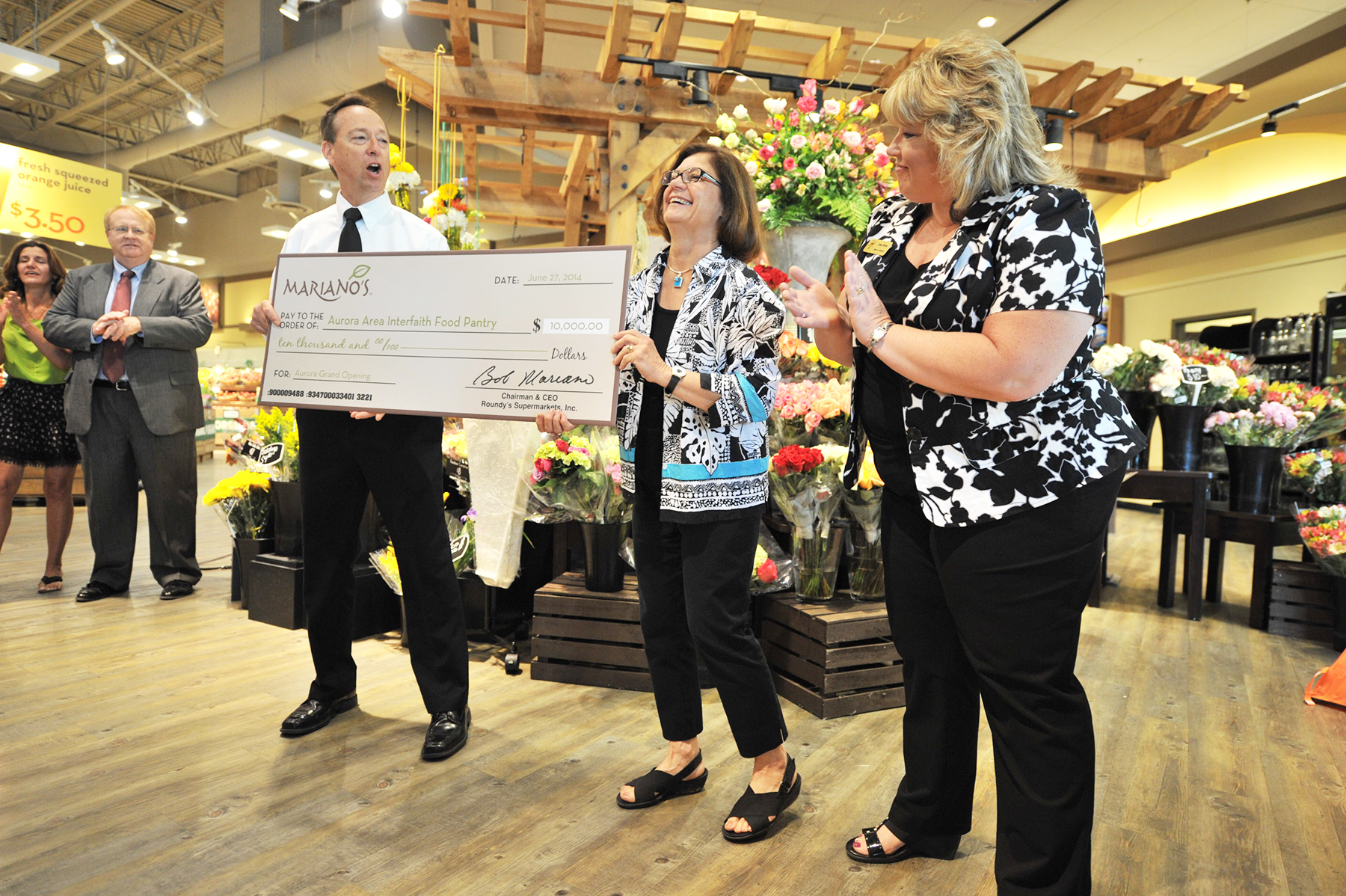 Pat Barcas/staff photographer
Mariano's store manager Victor Karlson presents a $10,000 donation to Aurora Area Interfaith Food Pantry Executive Director Marilyn Weisner and Aurora Area Interfaith Food Pantry Board President Lynn Flores.
By Pat Barcas
Staff writer
Thursday, July 3, 2014
Email Pat Barcas at pat@foxvalleylabornews.com
AURORA — When the phone rang at the Aurora Area Interfaith Food Pantry and Executive Director Marilyn Weisner received the news that a $10,000 donation was coming soon, she said she was speechless.
"Literally. I was so surprised. This is the largest corporate donation we've gotten. It's an incredibly wonderful donation," she said.
The generous donation came courtesy of The Roundy's Foundation, chartered in 2003 under the Roundy's corporation, which operates 174 retail grocery stores and 110 pharmacies under the Pick 'n Save, Rainbow, Copps, Metro Market and Mariano's retail banners in Wisconsin, Minnesota and Illinois.
The Roundy's Foundation mission is to support organizations working to relieve hunger and helping families in crisis due to domestic abuse, neglect and other at-risk situations. The check presentation was made June 27 at the newly opened Mariano's grocery store in Aurora, 3025 E. New York St.
Store manager Victor Karlson said business has been great for the new store, which also regularly donates to the Northern Illinois Food Bank.
"This is fantastic. Who doesn't like giving things away? Mariano's is big in being part of the community. And it's amazing what the Aurora Area Interfaith Food Pantry does," said Karlson.
He said Mariano's doesn't rely on advertising, but more word of mouth and posts on social media.
"People come in, they really like the store, then they tell your friends. It's worked for us," he said. "There are still people that don't know we're open over here in Aurora, but word is spreading."
All Mariano's stores are staffed by members of United Food and Commercial Workers (UWCF) Local 881 union. Karlson said the local workers are happy and have more job stability than non-union shops.
"We have hired over 400 employees from the area for our 11 stores. It's good for the local economy, and we are fair, paying a market wage. Our jobs provide more job stability and security, and employees are happier. This makes a better experience for the customer. It's just how we operate," he said.
Weisner said the pantry is currently serving an ever growing number of 1,000 families per week.
"With this kind of support, we can continue meeting that need," she said.