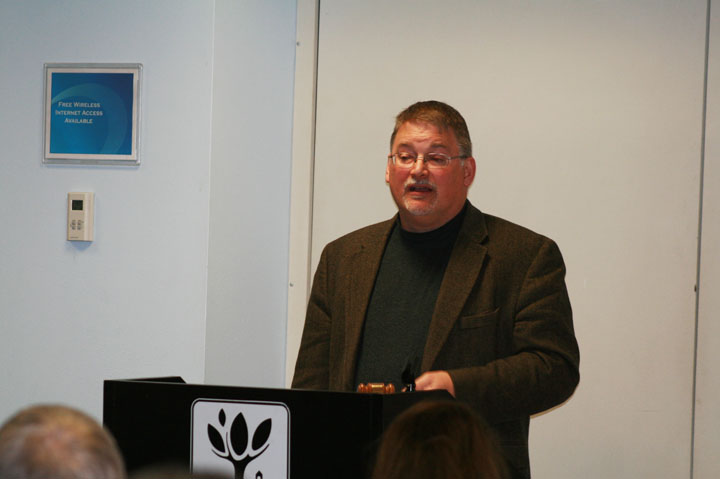 Jennifer Rice/staff photographer
North Central College professor Steve Macek said the American Legislative Exchange Council (ALEC) is, "a powerful, shadowy political force" aimed at fighting workers' rights, doing away with a living wage and taking public properties into the private sector.
By Bernie Biernacki
Special to the Fox Valley
Labor News
Thursday, Feb. 6, 2014

NAPERVILLE — Until just over a year ago, the American Legislative Exchange Council (ALEC) stealthy flew under the public "radar," assaulting our democratic values nationwide.
ALEC's initiatives have helped pass bills in many of our state legislatures making it more difficult for millions to vote. It has weakened public and private sector unions by eliminating collective bargaining, environmental and consumer protections. ALEC has limited access to affordable health care and the courts. It continues to buy elections, attempt to privatize schools, prisons and key public services.
Putting the cleansing light of transparency on ALEC has been the progressive watchdog Common Cause, through extensive research, public advocacy, an IRS "whistleblower" complaint and a building grassroots movement.
On Jan. 30, speaking before the monthly meeting of the Naperville Township Democratic Organization, Steve Macek, an associate professor of Speech Communication and program coordinator of Urban and Suburban Studies at North Central College, explained just how deeply ALEC has infiltrated our nationwide legislatures.
Macek said ALEC has clearly shown its "regressive" hand in Wisconsin, Michigan and Ohio. He said ALEC dates back to 1973 when the late conservative activist Paul Weyrich put together a "marriage" of "Big Business" and state legislators to build a right-wing agenda. The "foot soldiers" fronting for "Big Business" were and are its lobbyists.
"ALEC knows the states are where the action is," Macek said. "[ALEC] is a powerful, shadowy political force; mostly of the GOP ilk, but some Democrats."
He said the Koch brother and their various industries, as well as communication companies like AT&T and Comcast, energy companies like BP, Bank of America, many pharmaceutical companies like Eli Lilly and Bristol-Myers Squibb, insurance companies like State Farm and Farmers, and many, many, more support ALEC and its causes.
Macek said much of the legislation proposed by ALEC aims at easing taxation on the companies that support it. Other proposed and even passed legislation takes dead aim at doing away with anti-pollution initiatives, fighting workers' rights, doing away with a living wage and taking public properties, like prisons, into the private sector.
Macek said ALEC works under a "cloak of secrecy."
"None of its actions are in the open. It's meetings are private. The media doesn't have access," Macek said. "Just this past summer legislators from across the nation met in Chicago's Loop and there was hardly a mention of it on our local TV stations, radio or newspapers. Here were state legislators, many from Illinois, sitting across the table from ALEC's lobbyists to plan their future actions. And not a word was reported."
Asked what can be done to stop ALEC, Macek said some companies — Coca-Cola, the parent of Pepsi and McDonald's — have disowned ALEC. He said individual and unions should look at what companies they deal with and if they are members of ALEC. Another good way is to get as many people as you can and go to the Common Cause website and sign the petition that demands ALEC's corporate members to stop trying to buy elections and stop funding ALEC.
"It can be done, but we must work together," Macek said.
To learn what corporations and companies support ALEC, go to www.commoncause.org
To see a video of Macek's talk, go to Fox Valley Labor News YouTube channel.