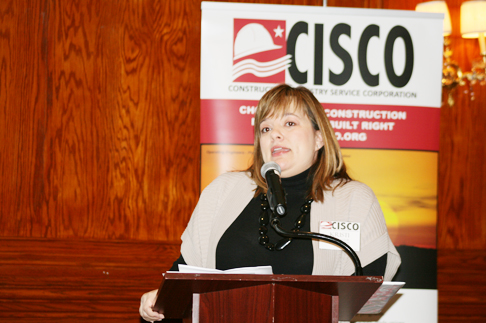 Jennifer Rice photo
Illinois Tollway Executive Director Kristi Lafleur said the Elgin-O'Hare project also includes improvements to I-290, I-355 and I-90. Work has already started on the I-90.
By Jennifer Rice
Managing Editor
Thursday, Jan. 17, 2013
SCHAUMBURG — The Move Illinois: The Illinois Tollway Driving the Future program is the largest capital program in the history of the Illinois Tollway and the largest of any toll agency in the nation.
This construction program will extend for the next 15 years, adding $21 billion to the regional economy. Annually, it will create as many as 120,000 jobs, with 13,000 of those jobs being construction-related.
Illinois Tollway Executive Director Kristi Lafleur gave an overview of the Move Illinois program Jan. 25 to contractors and union members during the Construction Industry Service Corporation's (CISCO) 2013 annual meeting.
The biggest news for Move Illinois was the recent announcement that funds are in place to move forward on the $3.4 billion Elgin-O'Hare Western Access project. Construction is expected to start this summer.
"If everything goes according as planned, there will be western access into O'Hare by 2018," Lafleur said. She acknowledged the efforts of Gov. Pat Quinn, Transportation Secretary Ray LaHood and Sen. Dick Durbin, who never gave up on the Elgin-O'Hare project.
Durbin said in a statement, that "by 2040, with the creation of the Elgin-O'Hare roadway, as many as 65,000 direct and indirect jobs stand to be created with the surrounding development and other infrastructure projects."
The Elgin-O'Hare project also includes improvements to I-290, I-355 and I-90, including upgrades to existing interchanges and new interchanges. Work has already started with building and widening the I-90 (Jane Adams) in the west.
Construction on the Move Illinois program kicked off in 2012 when it was awarded more than $628 million in construction and engineering contracts. "We created a little over 3,100 jobs. We were thrilled in the way the program started," Lafleur said.
The 15-year Move Illinois program will allow for a level of construction activity throughout its lifespan. "During feedback sessions with contractors, work consistency was very important. The feast or famine approach is very difficult on families. The power of this program is it keeps up a level of activity and a level of expectation for the next 15 years," she explained.
The Illinois Tollway will be working closely with the Illinois Department of Transportation (IDOT) to resolve issues on the Jane Adams when motorists try getting onto the Kennedy Expressway near O'Hare. "It's a bottle neck there. IDOT made an announcement that it's looking at the Circle Interchange as being a big part of making improvements on that area."
The Jane Adams is a $2.2 billion project for 62 miles of rebuilding and widening. Lafleur said it will be the first smart corridor on the tollway systems. "It will have traffic and technology management capabilities to allow the Illinois Tollway to carry out innovative measures in regard to traffic management," she explained.
During construction of Jane Adams, transit accommodations also will be created for either a bus traffic lane or flexible lane for traffic. "We're not making it a road for the next five or 10 years, but a road and a piece of infrastructure that will work for the next 20, 30 and 40 years," she said.
"The tollway is very important to this region and motorists were willing to pay and invest in the time savings they get from using toll roads, verses other roads," Lafleur said.
Jennifer Rice's e-mail address is jen@foxvalleylabornews.com.