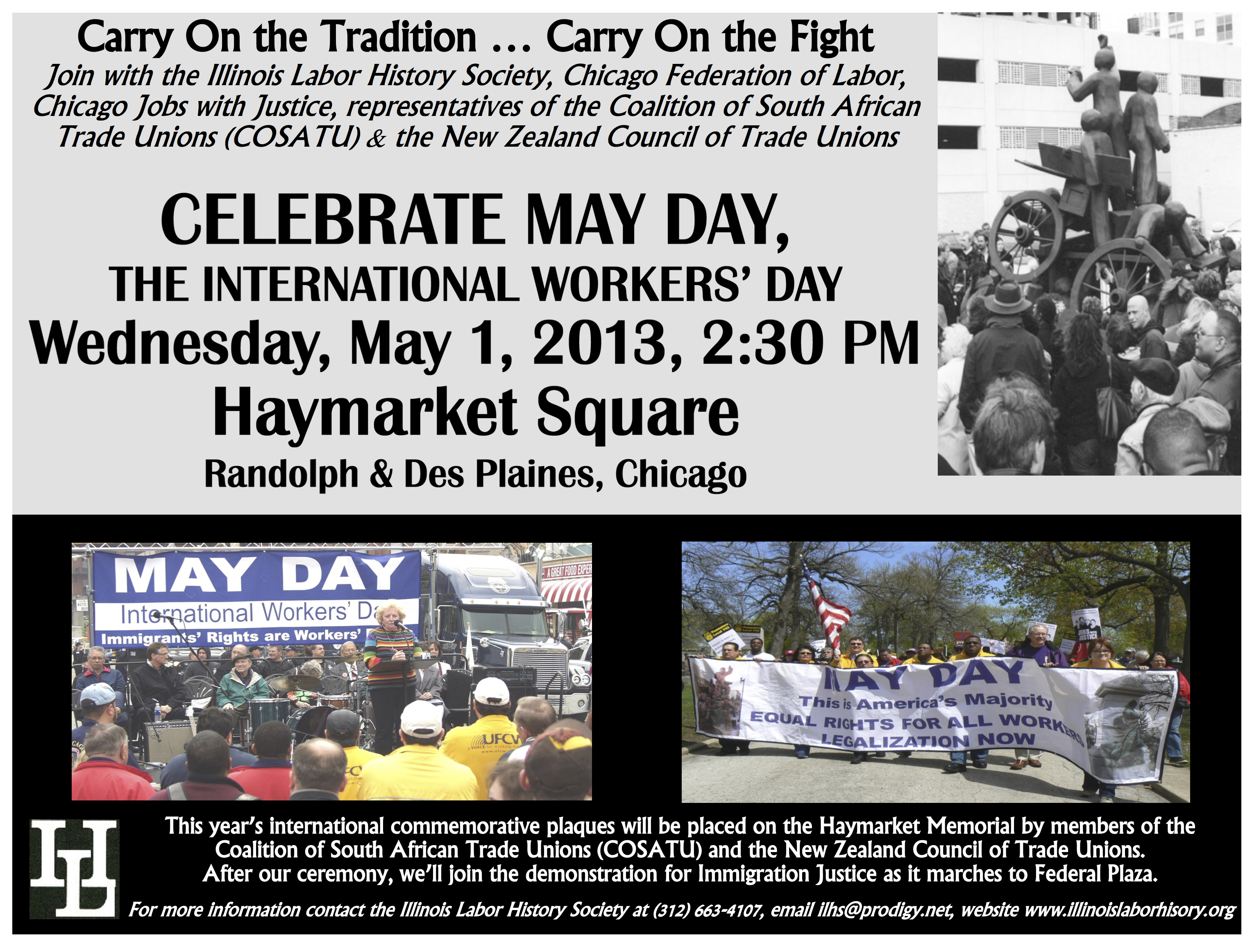 International Workers Day in Chicago May 1
Illinois Labor
History Society
Thursday, April 25, 2013
CHICAGO — Join the Illinois Labor History Society to continue the tradition and the fight for workers' rights as it honors the significance of May Day to our labor movement at 2:30 p.m., Wednesday, May 1 at Haymarket Square at Des Plaines Avenue, between Lake Street and Randolph Street, in Chicago.
Join sponsors Illinois Labor History Society, Chicago Federation of Labor and Chicago Jobs with Justice as they stand in solidarity with workers in the United States and around the world who seek a stronger voice in order to bring fairness, justice and safety to their workplace.
More than 125 years ago, thousands of workers took to the streets in Chicago on May 1 to demand a basic right that many of us today take for granted: the eight-hour workday. Because of the actions that unfolded over the course of those next few days, May 1 is celebrated around the world as the true "Labor Day."
Each year, a commemorative plaque is placed on the Haymarket Memorial by international trade unions. This year, sponsors will mount plaques from the Coalition of South African Trade Unions (COSATU) and the New Zealand Council of Trade Unions.
Following the rally, we'll march to Federal Plaza with our brothers and sisters in support of comprehensive immigration reform legislation that will give a voice to millions of workers in this country along with a roadmap to citizenship.
May Day is a vital part of our labor history not only in Chicago, but around the world. Join us in marking the significance of May 1 as we continue to fight for the rights of all working people.