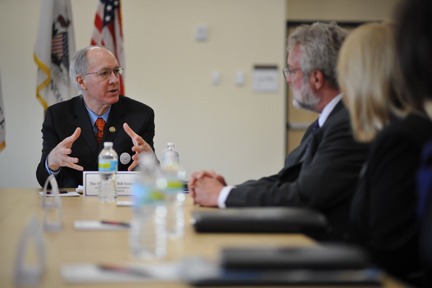 Pat Barcas photo
Congressman Bill Foster (left) talks Fab Labs to Aurora Mayor Tom Weisner March 28 at Waubonsee's Aurora campus. The budget laboratories are designed to ignite students' interest in the fabrication and manufacturing sector, one where Foster said jobs are plentiful in his district.
By Pat Barcas
Staff Writer
Thursday, April 4, 2013
U.S. Rep. Bill Foster (D-IL11) wants to see more U.S. manufacturing, and is seeking support in legislation that could bring a youth "Fabrication Laboratory," or Fab Lab, to Aurora.
Foster said he has bipartisan support for his Fab Lab Network Act of 2013, which would expand the nearly 160 Massachusetts Institute of Technology-invented labs to communities such as Aurora. He met March 28 with Aurora Mayor Tom Weisner and school officials at Aurora's Waubonsee Community College campus to explain the project and talk about the feasibility of opening a Fab Lab at Waubonsee.
"From many points, this is a no-brainer," said Foster. "The decline of U.S. manufacturing is a motivation. It's coming back now, this is something I feel great about and wish to reinforce."
Fab Labs are state-of-the art public laboratories where children and adults can invent, design and manufacture products. The equipment can be used to design anything from tools, to motors, to data networks, to artwork.
Machines in Fab Labs can include computer-controlled laser cutters that can make parts for assembly of 3D structures and 2D parts, and computer numerically controlled (CNC) milling machines for machining parts.
The labs are designed for youth to get their feet wet in the job rich market of manufacturing without heavy cost to the user or community.
"Kids start on robust, low-end equipment, but this is not a bunch of 'gee whiz' technology that will never get used," said Foster.
He said each lab will cost about $50,000 in the machine itself, and $50,000 in materials and infrastructure.
"Kids don't take things apart and put them in different configurations anymore," he said. "You can take apart an iPhone but you can't put it back together the same way. It's not the hot rod culture anymore."
Steve Kase, chairman of Illinois' Tooling and Manufacturing Association, a 1,000 member not-for-profit organization of precision manufacturing and supplier companies in the greater Chicago area, said he supports Fab Labs because he has seen similar training give big results in his line of work.
"One thing is very clear — they turn on a young mind," he said. "For better or for worse, it works. Our experience has been dramatic — within a year, someone who has had no training can be qualified to make $60,000 – 70,000 a year."
Pat Barcas' e-mail address is pat@foxvalleylabornews.com.