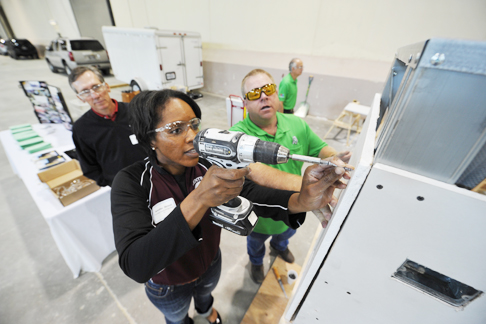 Pat Barcas photo
Jennifer Stroud, a counselor at Champaign Centennial High School, drills some holes as she learns how to hang drywall. Counselors had to measure and cut out specific holes in the drywall first before hanging it in this exercise.
By Pat Barcas
Staff Writer
Thursday, Oct. 4, 2012
WILIMGTON — The four year undergraduate degree isn't giving recent graduates the return on investment it once did. Students have to pay through their four years, then pay back the loan after they graduate. The alternative of joining a trade through an apprenticeship is becoming more and more attractive, and it's an option that was presented in detail Sept. 28 at the Illinois State Apprenticeship Committee counselor conference.
Area high school counselors gathered at the Operating Engineers Apprenticeship School in Wilmington where they learned hands on programs presented by a dozen trades, including Operating Engineers Local 150, Laborer's Apprenticeship Training, Carpenters Training Program, bricklayers, electricians, painter decorators, drywall finishers, teamsters apprenticeship training, plumbers, and pipefitters.
The counselors got to see first hand what it's like to handle a jackhammer, lay some bricks, hang drywall, bend pipes, and figure out angles when preparing pipe insulation.
Potential apprentices can earn $20 per hour while training, and more than double that after they get their hours and become a professional, all with full benefits and pension, an option that is attractive to many young people.
As the instructors noted, apprentices don't need to be big. It's not required that they are super strong, even for a tough job like roofing.
But they do need to be very sharp when it comes to one subject: Mathematics.
"Everything in this trade is math oriented. You use trigonometry to figure out the angles of the bends, you have to read blueprints," said Michael Galfano, instructor with Pipe Fitters Local 597. "Everything today is fast paced, you have to be able to figure out the angles quickly and accurately. You come in with the basic math, and we build on that. Math is really crucial."
The high school counselors were given all the information needed at the five-year-old, 542,000 square foot facility to advise graduating seniors toward their path in life. Individual stations were set up to show them the ins and outs of each trade, in bite sized bits of information.
At the crane operations station, the counselors were given the task of calculating the weight of a pipe to be lifted by a crane, as well as which strap to be used.
"Math is important here. This crane arm extends 102 feet. You know how many people will be affected if that's extended and it bends because the operator did the calculations wrong?" asked George Antos, crane instructor. "You have to be able to read the charts. We beat these charts into the students' heads. School doesn't end until you retire, that's what we tell our guys."
There are currently 500,000 apprentices nationwide, and programs are offered in more than 100,000 occupations, including energy, health care, nurses, the military, and green jobs. The potential to earn big money in an enjoyable career is tangible.
"College grads spend money, apprentices make money. The college grad will never catch up," said Jack Martin, a presenter from Jack Martin and Associates, pre-apprentice training. "At the end, the apprentice has the possibility to own their own company as well."
But if students think they can rely on their calculators or smartphones for their tasks, they can forget about it.
"You can't use calculators in a nuclear power plant or an oil rig. We remove that crutch in our training right away," said Mike Clemmons, an instructor with IBEW Local 176. "We're teaching you to be self reliant."
For further information on enrollment, visit: Operating Engineers Apprenticeship School
Pat Barcas' e-mail address is pat@foxvalleylabornews.com.