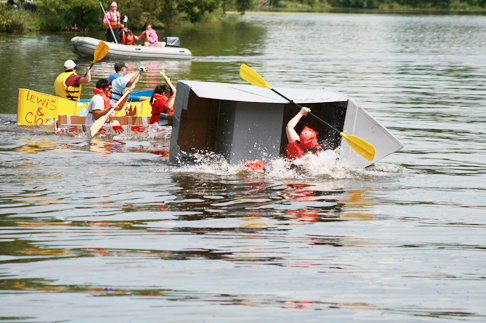 Jennifer Rice photo
It doesn't take long before the cardboard boat of the YWCA of Aurora's We Can Do It capsizes, spilling its two boaters into Mastodon Lake at Phillips Park during the Fox Valley United Way's What Floats Your Cardboard Boat Race

By Jennifer Rice
Managing Editor
You wouldn't think a lake, a few hundred people and lots and lots of cardboard would equate to a good time, but then you didn't attend the recent Fox Valley United Way's (FVUW) 10th annual What Floats Your Cardboard Boat race held Aug. 18 on Mastodon Lake in Phillips Park.
On that beautiful, sunny day, 22 decorated cardboard boats, built and manned by area businesses, organizations and individuals, competed for trophies and bragging rights as they made their way to the finish line.
"So many people make this event possible," said FVUW Executive Director Michael Myer. "It's such a unique and wonderful event."
A few cardboard boats sunk, but that's all right, because the race honors the best sinking with the Most Spectacular Sinking award. This year, that award was rightfully earned by the Pink Positive Engine 10, built by the Aurora Regional Fire Museum. Racing in the community category, the pink cardboard fire engine capsized within a minute after launching.
But it was able to redeem itself when it raced in the Last Chance Race, a category, which is open to all losing, yet seaworthy vessels. With only two boaters instead of its original three, the Pink Positive Engine 10 stayed afloat and crossed the finished line with dry participants.
Much to the delight of spectators, three other vessels sunk on Mastodon Lake, including the United Wave Machine, manned by Gandi Falcon, the Circus Circus boat, manned by the Falcon family and the We Can Do It boat, manned by the YWCA.
The Circus Circus vessel lasted a measly 9/10 of a second — barley enough time for participants to get situated into the boat. The two women aboard the We Can Do It boat managed a few paddles before it tipped on its starboard side, spilling the women into the lake. The United Wave Machine, well, it circled a few times before its large, decorated top capsized the vessel.
Prior to the race, Mission Possible Chaplin Gary Baer joked that he was pretty sure Noah wouldn't get on any of these arks. Baer was invited to bless the fleet prior to their takeoff. He prayed that God bless the boats, even if they weren't seaworthy; bless the boaters, even if they can't swim and the rescue team, well, just in case.
The event kicked off the FVUW's campaign season and celebrated the organizations that work together to make a difference for those in need in the Fox Valley. Aurora Mayor Tom Weisner said the people involved in this year's race were making it possible that the FVUW can meet the needs of the people in our community.
"Sometimes we forget there are people in need; that have trouble feeding their families or are near homelessness. But the Fox Valley United Way makes sure that no one in our community is left behind," Weisner said.
Jennifer Rice's e-mail address is Jen@foxvalleylabornews.com.