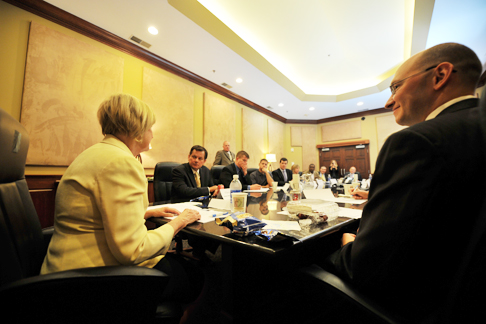 Pat Barcas photo
Rep. Judy Biggert leads a roundtable discussion at Alarm Detection Systems in Aurora July 27 regarding the Bush tax cuts that are set to expire in 2013.
By Pat Barcas
Staff Writer
Thursday, Aug. 3
With the 2001 and 2003 "Bush tax cuts" set to expire on Jan. 1, 2013, what impact will the increase have on small businesses and their abilities to pay employees?
Small and large business owners, members of the Illinois Chamber of Commerce, and U.S. Representative Judy Biggert (R,-IL 13th) gathered in Aurora July 27 for a roundtable discussion of the tax cuts. Biggert toured Alarm Detection Systems, Inc. before sitting down for the roundtable.
According to the New York Times, President Obama reached a deal in December 2010 that extended the tax cuts at all income levels through the end of 2012 as part of a package that would also keep benefits flowing to the long-term unemployed, cut payroll taxes for all workers for a year and take other steps to bolster the economy.
This is what is set to expire in 2013. The House is scheduled to vote next week to stop the Jan. 1 tax hikes after the Senate voted to allow them.
"It's hard to put together a 15 year business plan with tax uncertainty like this," said Ken Knight, Caterpillar's manager of integrated manufacturing operations. "If we plan to grow in the U.S., we need certainty in the tax codes."
Others said the additional taxes would put a strain on their small business.
"The company can't afford this. It would put a lot of strain on our finances," said Kevin Podraza, a man who purchased S+S Metal Recyclers from his father. The company employs 30 people. "I made more money as an employee, that's how much I get taxed as an owner already."
Podraza wondered when he would be stood up for.
"When is the small business going to be stood up for in this country? I'm the slave of the nation right now. We pay most of the taxes," he said.
Biggert said she would like to see an extension until permanent tax reform can be accomplished.
"It's for you. It will benefit you," she said. "We're also trying to address over-regulation, and shut down loopholes."
However, a recent U.S. Treasury analysis found that only 2.5 percent of small businesses would face higher taxes from the expiration of the Bush tax cuts. Also, more than 90 percent of assets owned by millionaires are held in a combination of low-risk investments, the stock market, real estate, and personal business accounts.
Angel investing, where an individual invest in small businesses, accounted for less than one percent of the investable assets of high net worth individuals in North America in 2011. The Wall Street Journal even reported that the extra wealth created by the Bush tax cuts led to the "worst track record for jobs in recorded history."
Pat Barcas' e-mail address is pat@foxvalleylabornews.com.