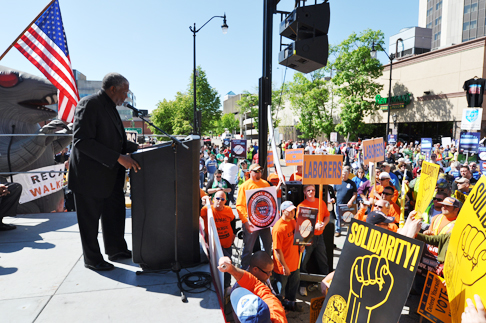 Pat Barcas photo
Firing up a crowd of thousands, Springfield Pastor T. Ray McJunkins spoke from the heart about the need for pensions and how people will fight back against Wisconsin Gov. Scott Walker.
By Pat Barcas
Staff Writer
SPRINGFIELD — An estimated 4,000 people took to the streets of downtown Springfield Tuesday to deliver a message to Wisconsin Governor Scott Walker: his war against the working class is not welcome in Illinois.
Walker was invited into town by the Illinois Chamber of Commerce to speak to more than 200 business leaders, a move union leaders weren't happy with.
"We're here to show him that we don't want him here," said Illinois AFL-CIO President Michael Carrigan, addressing the crowd during the rally. "He's trying to poach our jobs, and your jobs. Shame on him."
Walker notoriously introduced a budget bill last year that served to strip collective bargaining rights from most public workers in Wisconsin. The bill was passed after three days of debate, while Democratic senators hid out in Illinois.
This year, Walker faces a recall election June 5 after his popularity in the state has plummeted.
The enthusiastic crowd spanned an entire block, with unions busing members in from all over the state. Many people made the trek from Wisconsin as well.
"It's our fight, it's your fight, it's all of our fight," yelled Wisconsin AFL-CIO President Phil Neuenfeldt to the crowd gathered in front of the stage. "We can't tell you how much the support from you from rallies like this inspires the workers in Wisconsin."
Brian Kennedy, President of the American Federation of Teachers-Wisconsin, extolled on Walker's big bust in the job creation department.
"He promised to create 250,000 jobs in his first term, but Wisconsin was actually dead last in job creation during that time," he said.
Walker also blamed public servants on the budget shortfall he created, and slashed school funding and health care for children and their families, as well as threatened pensions.
Pastor T. Ray McJunkins of the Union Baptist Church in Springfield took to the stage to tell the crowd he's not going to take it, and they shouldn't either.
"Much of my congregation will soon be facing retirement," he said. "They need these public pension plans. It's important if they want to continue to live a life of dignity. Scott Walker, you may threaten us, but we aren't going to turn around. We have taken on the attitude of MC Hammer — you can't touch this!"
Pat Barcas' e-mail address is pat@foxvalleylabornews.com.