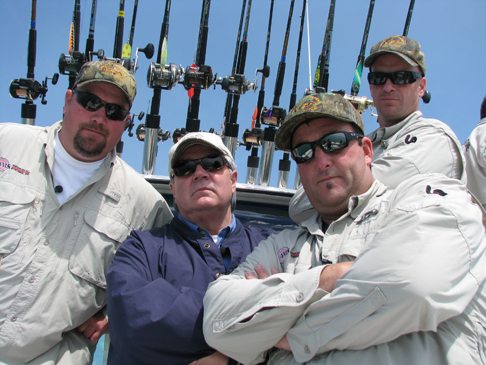 Photo courtesy of Union Sportsmen's Alliance
From left, Fred Popplewell, Tom Ackerman (Brotherhood Outdoor host), Kevin Crum and Dan McNally out on Lake Michigan fishing trout and salmon.

By Jennifer Rice
Managing Editor
CHICAGO — As children, we all had role models we looked up to and tried to emulate. On occasions — as adults, we get rare opportunities to actually walk in the footsteps of our childhood heroes, but when we do, that feeling is oh, so special.
For Dan McNally, 39, of New Lenox, he and his brother spent countless summer days fishing in local ponds, pretending they were master fishermen Babe Winkelman and Bill Dance from the ever popular 80s TV show, "Babe Winkelman's Good Fishing."
Their living room couches transformed into boats where they would banter back and forth with each other, just like Winkelman and Dance. Everything they learned about fishing they learned on Winkelman's TV show.
So when McNally saw an opportunity in the UA Journal, (a trade publication for members of the plumbing and pipefitting industry) for a chance to be on the Union Sportsmen's Alliance's (USA) award-winning TV show, "Brotherhood Outdoors," McNally gave it a try.
"Brotherhood Outdoors" is a unique outdoor TV series that showcases the American workers' commitment to their communities and their love for the great outdoors. These deserving, blue-collar characters are rewarded with a guided hunting or fishing trip in North America or the opportunity to show off their skills by taking noted outdoorsman and host Tom Ackerman to their own honey holes.
McNally, a pipefitter with Chicago Local 597, wanted to bring Ackerman to Chicago for Lake Michigan trout and salmon fishing.
You see, McNally had been chosen in 2010 for a now defunct USA TV show, "Escape to the Wild," where McNally traveled to Texas for bass fishing. He told Ackerman if he ever made it to Chicago, McNally would barbeque for him, take him fishing and to a Chicago White Sox game, even though Ackerman is a devout Boston Red Sox fan.
"This was my time to pay Ackerman back," McNally said of his reasoning for sending in his application for the TV show.
In May 2011, the host and crew of "Brotherhood Outdoors" joined McNally and two union buddies for two days of fishing on Lake Michigan. McNally's friends work with him at AMS Mechanical Systems, INC., in East Chicago, Ind., where the three run AMS Indiana fabrication.
For the past three years, McNally has been working on the BP Whiting Refinery project, which is the second largest refinery in the BP refining system and the 6th largest refinery in the U.S. "It's a monstrous project for us," he explained. "Our hall is empty because of all the manpower needed at that facility. We have to go outside the state for workers."
Their chartered boat, manned by captain Doug Iliff from Anglers Adventures, ventured toward the Gong on Lake Michigan, a popular fishing spot near the Gong buoys, just outside Pastrick Marina.
On their first day, the men struck gold, each man limiting out on trout. The second day of fishing, the men tried to go for salmon, but a storm that rolled through the night before made the water murky. "The fish just can't see the lures in water like that," McNally said. "You basically have to hit the fish on the head with the lure get them to bite," he said with a laugh.
Along with fishing, the TV crew filmed McNally at his home and worksite, spotlighting his strong family ties with his wife Michelle and sons Max, 6, and Naythan, 10. "What sets this show apart from other hunting and fishing shows is learning about the person's family and union life," McNally said.
He kept his promise and barbecued for Ackerman and took the Boston Red Sox fan to a Chicago White Sox game. "I remember [starting pitcher] Jake Peavy had a gem of a game, they won 1-0, McNally said.
And did Ackerman change his tune and become a Chicago White Sox fan? McNally said Ackerman's still a Sox fan, "just the wrong color," he explained.
When the show airs March 29 on the Sportsman Channel, McNally hopes the nation will see that Lake Michigan and Chicago is a fishing destination spot. "Right now, it seems like it's just the local fisherman taking advantage of fishing. The anglers may not be happy with me letting everyone know, but the boat captains will be," he said.

Jennifer Rice's e-mail address is Jen@foxvalleylabornews.com.