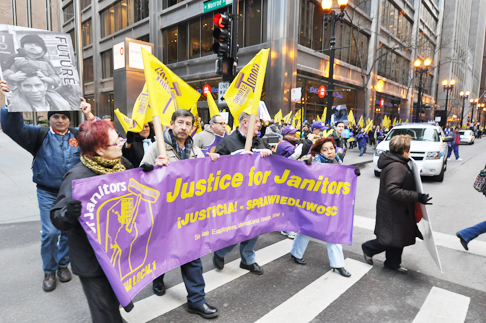 Pat Barcas photo
SEIU Local 1 members turn the corner toward the Willis Tower in Chicago during a march on International Women's Day.
By Pat Barcas
Staff Writer
CHICAGO — Members of Service Employees International Union Local 1 in Chicago marched again last week to ask that those at the top give equal pay to those at the bottom.
Hundreds of janitorial staff marched from the Chicago Board of Trade to the Willis Tower on International Women's Day, March 8, amidst new contract talks with billion dollar corporations in Chicago. Corporations that pay janitors a salary less than $20,000 a year to clean their buildings on a daily basis, including the Chicago Board of Trade, which profited $1.8 billion in 2011.
"We work so hard to provide for our families, but we are struggling to make ends meet," says Elizabeth Deshazo, a janitor in downtown Chicago. "It's not fair that CEOs of big corporations make more in just one day than we janitors do in a year. I dream of a more balanced economy where my 10 grandchildren will be able to have a better future."
International Women's Day fell on the backdrop of the janitors' ongoing contract negotiations, which will impact more than 13,000 janitors in SEIU Local 1. Those janitors — many of whom are women — are uniting to create a pathway out of poverty for their families and a better future for their children.
SEIU Local 1's janitorial contract expires on April 8. SEIU Local 1 President Tom Balanoff addressed the crowd, saying he's tired of seeing the rich get richer and the poor get poorer.
"It's time to send a message: Pay us a fair wage, take care of our benefits, we're the ones who make America work, we're the ones who make America great, and the janitors are here to say, we will not settle our contract until our benefits are protected and we get a real wage increase with real money in our pockets," said Balanoff. "It's time to fight back, because when we fight back, we win."
Laura Garza, vice president at SEIU Local 1 and Director of the Commercial Division, recognizd the progress women have made while preparing for contract negotiations.
"Women today are still paid 77 cents for every dollar their male counterparts make. But unionization is proven to raise female workers' wages by two dollars an hour. Uniting together and bargaining a fair contract helps women get access to decent wages, affordable family health care, and a voice on the job. That's what we are fighting for now."
Pat Barcas' e-mail address is pat@foxvalleylabornews.com.